Spotlights from the Shelf: Bees
Posted in From the Library on June 26 2017, by Samantha D'Acunto
Samantha D'Acunto is the Reference Librarian at The New York Botanical Garden's LuEsther T. Mertz Library.
---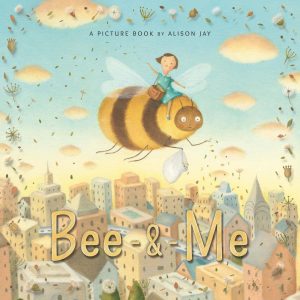 Here at the LuEsther T. Mertz Library we consider bees our friends, and you should too! If you're a bit unsure of having a friendship with a bee, let us try to convince you with the newest titles in our circulating children's collection. In the titles featured below, you'll be able to read about all the wonderful things bees have to offer to us and our environment, making them the most generous friends!
Bee & Me by Alison Jay (2016)
Bee & Me is a delightful story of friendship, environment and the plight of the honeybee. This wordless picture book captures the relationship between a girl and a bee in a series of delicately illustrated pages. A disoriented bee finds itself in the center of a city and flies into the room of a little girl. After their chaotic encounter, the little girl befriends the bee. The two spend time sharing food, playing games, and exploring the city together. When Bee is reminded of the home he no longer has, he is suddenly struck with melancholy. In an attempt to cheer Bee up, the little girl takes Bee to visit a park where there are plenty of trees, flowers, and open space! Overjoyed by this discovery, Bee thanks the little girl by helping her plant a window garden of his favorite flowers so when they bloom, he'll be there to visit.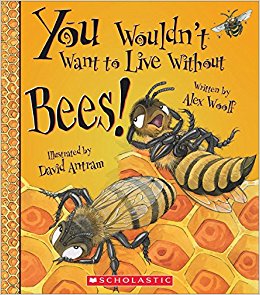 You Wouldn't Want To Live Without Bees! by Alex Woolf / Illustrated by David Antram (2016)
Bees play a vital role in our ecosystem. We have bees to thank for some fruits and vegetables, beautiful flowers and of course, plenty of honey! Bees also play an important role in keeping the animal food chain balanced, as many birds and mammals rely on bees and their honey as a food source. So what if we lived without bees? You Wouldn't Want to Live Without Bees! tackles the science and presents it with ease, humor, and wonderful illustrations. Most of all it offers an easy to read narrative that provides enough details and urgency for readers to understand that you truly wouldn't want to live without bees!
You Wouldn't Want to Live Without Bees! is part of an extensive series created by David Salariya covering a range of subjects and topics. To find more topics under this title just follow the link!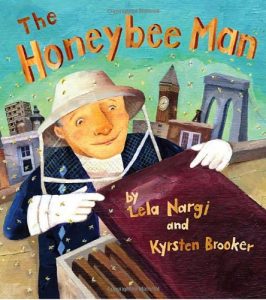 The Honeybee Man by Lela Nargi and Krysten Brooker (2011)
Fred lives in Brooklyn with his dog, his neighbor, and his bees! The Honeybee Man offers a glimpse into the life of a beekeeper. Fred cares for his bees who live on his roof by providing them a home, a garden, and love. In return, the bees give Fred honey which he shares with his neighbors and friends. The sweet honey is produced after the bees spend the day in the surrounding gardens collecting the nectar from flowers. As readers follow Fred throughout his day, they are invited to peek into the bees' home to learn about the different roles bees have and discover how honey is produced.