Spotlights from the Shelf: Veggie Appreciation
Posted in From the Library on June 12 2017, by Samantha D'Acunto
Samantha D'Acunto is the Reference Librarian at The New York Botanical Garden's LuEsther T. Mertz Library.
---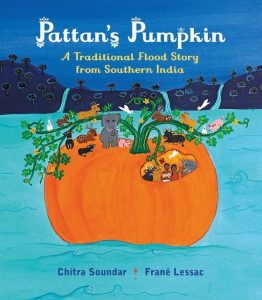 Vegetables are at the center of the longest battle ever fought between parent and child. Fighting the good fight for the veggie kingdom, the LuEsther T. Mertz Library aims to equip parents everywhere with titles that highlight veggie appreciation. The titles featured below are new to our children's circulating collection and offer positive tales of why eating your veggies is important. So next time you say "Eat your vegetables!" it might just work!
Pattan's Pumpkin: A Traditional Flood Story from Southern India by Chitra Soundar / Illustrated by Frane Lessac (2016)
Pattan and his wife Kanni live near the river caring for their garden and their animals. The goats, bulls, and elephants help Pattan tend to his chores, and in return, he shares his harvest. After his walk through the land, Pattan finds a plant that is need of help, so he replants it in his garden to care for it. Not too long after being replanted, the plant grows into a pumpkin. The pumpkin quickly grows larger than the goat, then larger than the bull, then larger than the elephant, and soon enough it's bigger than a mountain! When a rainstorm causes terrible flooding, Pattan must quickly devise a plan that will carry his family, animals, and grain to safety. Based on a traditional South Indian tale, Pattan's Pumpkin is exciting and rewarding to read! Its vibrantly colored illustrations and friendly narrative transport the reader into the story.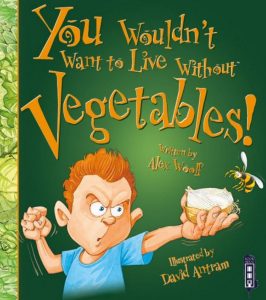 You Wouldn't Want to Live Without Vegetables! by Alex Woolf / Illustrated by David Antram (2016)
Vegetables are a staple of our diet, though beyond being a part of our meals, plants appear in many other aspects of our life, including clothing, disposable utensils, and even lipstick! Some foods that we call vegetables aren't even vegetables at all, as the definition of a vegetable is "a seedless, edible part of a plant." So what is the deal with vegetables? Why are they so important?
You Wouldn't Want to Live Without Vegetables! will make you an expert on vegetables in no time with a witty narrative, fun facts, and an extensive glossary. Learn everything from the history of the onion to how vegetables affect our environment. Sprinkled throughout the book are You Can Do It! boxes that provide the reader with hands-on activities for further discovery of the vegetable world. There are activities for everyone, including a veggie identification quiz, tips for starting your own vegetable garden, and lots in between. "So next time you grumble about eating your greens, remember—you really wouldn't want to live without vegetables."
You Wouldn't Want to Live Without Vegetables! is part of an extensive series created by David Salariya covering a range of subjects and topics. To find more topics under this title, just follow the link!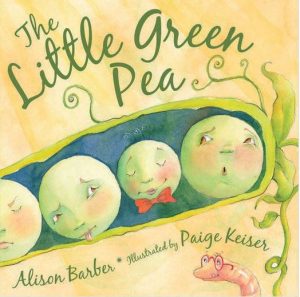 The Little Green Pea by Alison Barber / Illustrated by Paige Keiser (2009)
The Little Green Pea is not your average children's tale and it certainly does not offer the happiest of endings. However, Alison Barber does camouflage the story to appear as a children's fable before adding a twisted dose of reality halfway through the book, making it the most realistic account of the life cycle of a green pea. This book is not for those looking for a feel-good story, but rather for someone hoping to learn about the many paths that a pea can take to become a plant.
A wee little green pea in row fifty-three who dreams of becoming a tree is shucked to his delight. When he suddenly realizes he is meant to be eaten, he attempts to escape his destiny to be an ingredient in a green pea casserole. The little green pea leaps to the ground only to live the remainder of his life shriveled on the kitchen floor. The narrator, a worm, interrupts the story to ensure the reader that the tragic life of the little green pea actually results in the best possible outcome—a plant!