What Have Plants Ever Done for Us?
Posted in From the Library on June 20 2017, by Esther Jackson
Esther Jackson is the Public Services Librarian at NYBG's LuEsther T. Mertz Library where she manages Reference and Circulation services and oversees the Plant Information Office. She spends much of her time assisting researchers, providing instruction related to library resources, and collaborating with NYBG staff on various projects related to Garden initiatives and events.
---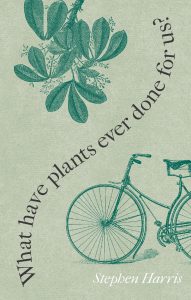 What Have Plants Ever Done for Us? is a wonderful book about botany, history, and human society. Authored by Stephen Harris, Curator of the Oxford University Herbaria and a University Research Lecturer, Plants was published in 2015. Those who read a lot of popular science books about botany will be aware that there are quite a few books published in the vein of Plants, sort of "natural history prose" about how certain plant species or plant groups have been used by humans throughout the ages.
Poorly-researched books are a dime a dozen, which makes Plants all the more wonderful. Harris is a detail-oriented researcher who writes well, both clearly and with a very dry (sometimes hard to catch) sense of humor. Not only does Harris review and condense several more recent "a history of" publications about different plants (for example, The Pineapple: The King of Fruits or Tobacco: A Cultural History of How an Exotic Plant Seduced Civilization), he incorporates recent scholarly scientific research articles as well as notable historic works written between the 15th and 20th centuries. Harris deftly weaves his narrative with elements of history, botanical nomenclature, taxonomy, plant morphology, genetic research, and economics. In addition to very good scientific writing, there is a great deal here about the trade and colonization practices of European powers in particular, as well as elements of conservation theory.
Any lover of plants will enjoy What Have Plants Ever Done for Us?. Readers can sample a chapter or two at a time, or read the text from cover to cover. Teachers in many different disciplines—humanities and sciences both—might also find Plants to be very valuable as a teaching aid, either by assigning chapters to students as readings or using chapter topics to structure lesson plans.  Having finished Plants, I am now eager to read more by Harris! In particular, Oxford Botanic Garden & Arboretum: A Brief History, Harris's new book from University of Chicago Press.