Seeing Trees, Flowers, and Seeds
Posted in From the Library on July 31 2017, by Esther Jackson
Esther Jackson is the Public Services Librarian at NYBG's LuEsther T. Mertz Library where she manages Reference and Circulation services and oversees the Plant Information Office. She spends much of her time assisting researchers, providing instruction related to library resources, and collaborating with NYBG staff on various projects related to Garden initiatives and events.
---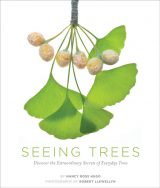 Seeing Trees, Seeing Flowers, and Seeing Seeds are three beautiful books by the photographer Robert Llewellyn with authors Nancy Ross Hugo and Teri Dunn Chace. Together, these three books represent Llewellyn's fascination with the plant kingdom. This series of works explores mainly the reproductive parts of plants with text accompanying almost painterly photographs of different species.
In a 2015 interview for Mother Nature Network, Llewellyn stated of himself that, "there was a sudden realization that trees were alive. They were another civilization living with us on Earth. They were born and they died. They made flowers and seeds and sent their children out into the world. I wanted to know more, so I studied and photographed parts on the tree. I started looking at Earth as if I was visiting another planet for the first time. I was amazed at what was hiding in plain sight."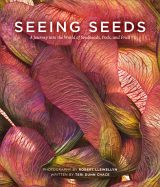 This sense of amazement has been successfully transferred to readers of his works. Using a technique called "focus stacking," Llewellyn may take 100 frames or more of a plant portrait with each photograph having a different focal point. Then the frames are input to a "stacking" software and rendered as a single image.
This technique allows for Llewellyn to capture botanical details that even the most steady-handed traditional macro-photographer would be unlikely to achieve.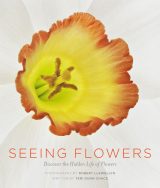 The large color photographs in the Seeing series make the plants seem, at times, unreal or alien in their beauty. Llewellyn for the most part seems to focus on species native to the Mid-Atlantic United States, possibly because of his need to photograph live material as opposed to herbarium specimens. As a result, readers hailing from this region will recognize many of the plants in these three works, gaining a new perspective on familiar friends. Of the three works, my favorite is Seeing Flowers. In this book, author Teri Dunn Chace has arranged the text so that the flower photographs are grouped by botanical family. This adds an element of botanical scholarship to what might otherwise be more of an art book. Indeed, my only real criticism of the Seeing series is that the authors and photographer don't always provide botanical names for the organisms featured. Unfortunately, this means that Seeing Trees and Seeing Seeds have less scientific or teaching value than they do artistic merit.
Many of Llewellyn's photographs can be viewed online. If your interest is piqued by his website, I strongly encourage you to seek out the Seeing series, and prepare for your breath to be taken away.