The Trees of North America
Posted in From the Library on July 5 2017, by Esther Jackson
Esther Jackson is the Public Services Librarian at NYBG's LuEsther T. Mertz Library where she manages Reference and Circulation services and oversees the Plant Information Office. She spends much of her time assisting researchers, providing instruction related to library resources, and collaborating with NYBG staff on various projects related to Garden initiatives and events.
---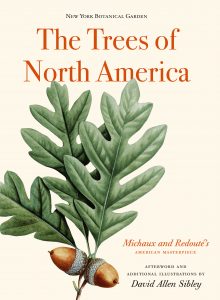 The Trees of North America: Michaux and Redouté's American Masterpiece is a new book from The New York Botanical Garden and Abbeville Press. This beautiful volume includes 277 color plates from The North American Sylva, the first volumes of which were published in 1817 by François André Michaux (1770–1855), followed by subsequent volumes in the 1840s by Thomas Nuttall (1786–1859).
François André Michaux was a French botanist and explorer. François André with his father, Andre? Michaux (1746–1802), wrote some of the most important and widely-read books about North American flora. Susan Fraser (Vice President and Director of the LuEsther T. Mertz Library) and author Marta McDowell have written detailed introductory essays in The Trees of North America which include bibliographic information about the series and biographical information about the two Michaux explorers and Thomas Nuttall, the author who eventually completed the project.
It's impossible to look at these plates without thinking about the early days of botany as we know it in North America. For those who love native trees, The Trees of North America is both beautiful and transportive. Certain plates, such as that of Castanea dentata, the American chestnut, are lovely and bittersweet. With accompanying illustrations by David Allen Sibley (who also wrote the afterword), The Trees of North America is an enjoyable read for all history of science and native plant enthusiasts.