Departing Summer with an Ode to Insects in New Children's Books
Posted in From the Library on August 31 2017, by Samantha D'Acunto
Samantha D'Acunto is the Reference Librarian at The New York Botanical Garden's LuEsther T. Mertz Library.
---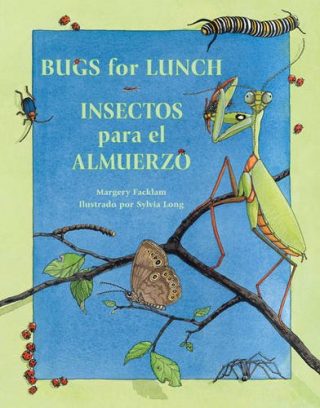 Before summer fades into autumn, we should take a moment and appreciate the insects that become visible during this time of year. The titles featured below encourage readers to explore, observe, and identify the insects around them. Each book has pages with bright illustrations, while fun facts offer plenty of room for imagination. The LuEsther T. Mertz Library invites you to read about our six-legged neighbors with a new appreciation before we bid them farewell until next season.
Bugs for Lunch by Margery Facklam/Illustrated by Sylvia Long
Insectos Para el Almuerzo por Margery Facklam / Illustrado por Sylvia Long
Who would eat bugs for lunch? Plenty of animals, as you will learn, enjoy insects as a meal. From birds to humans, explore the world of insects through this rhythmic bilingual narrative by Margery Facklam accompanied by Sylvia Long's thrilling illustrations. Bugs for Lunch is perfect for readers interested in exploring the predator/prey aspect of the food chain. The bilingual narrative continues in the detailed glossary offering up more information of the insects, plants, and animals mentioned throughout the book. Bugs for Lunch is fun, informative, and memorable!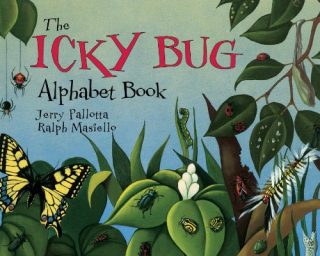 The Icky Bug Alphabet Book by Jerry Pallota
The Icky Bug Alphabet Book is an A-to-Z compendium of insect information. It's impossible to turn a page without learning something new about insects! From ants to zebra butterflies, readers of all ages will learn a plethora of fun facts from the simple and punchy narrative by Jerry Pallotta. The pages pop with colorful illustrations by Ralph Masiello. Together, Pallotta and Masiello make insects less icky! Young readers will enjoy this delightful introduction to the insects.
This is the second book in our collection by Jerry Pallotta. His book Who Will Plant A Tree? guides the reader through the many ways seeds travel and ultimately end up being planted. Read the full review here.
Du Is Tak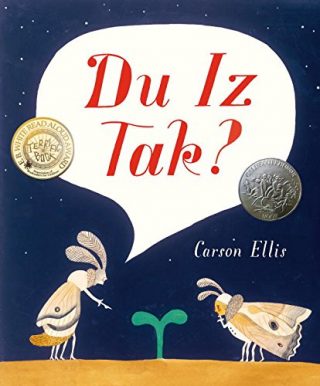 ? By Carson Ellis
Winner of the 2017 Caldecott Honor Medal, Du Is Tak? is taking the library by storm! Carson Ellis offers readers a unique and magical perspective written in an imaginary language from the point of view of insects. As two damselflies watch a tiny plant begin to unfurl, they brainstorm a plan to build a tree fort. They wait patiently as the plant grows larger and they meet others along the way. This delightful adventure offers readers the opportunity to exercise the utmost imagination!