Darwin's Backyard
Posted in From the Library on September 20 2017, by Esther Jackson
Esther Jackson is the Public Services Librarian at NYBG's LuEsther T. Mertz Library where she manages Reference and Circulation services and oversees the Plant Information Office. She spends much of her time assisting researchers, providing instruction related to library resources, and collaborating with NYBG staff on various projects related to Garden initiatives and events.
---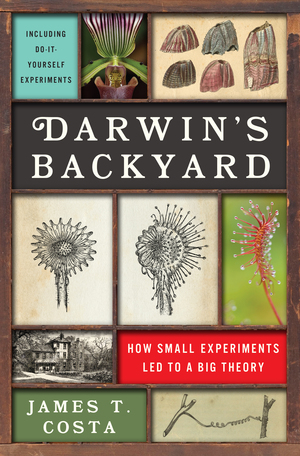 Darwin's Backyard: How Small Experiments Led to a Big Theory is an interesting hybrid of a book. Author James T. Costa has written extensively on both Charles Darwin and Alfred Russel Wallace, and he brings his years of research to bear in Darwin's Backyard.
The scope of Darwin's Backyard is strictly relegated to documenting and explaining Darwin's experimentation process and many of his experiments that might be conducted at home. At times, the narrative and pacing seems similar to Andrea Wulf's 2015 book, The Invention of Nature: Alexander von Humboldt's New World. Wulf and Costa write not only about the scientist at the center of their novels, but also about the scientific community within which each scholar developed and interacted. Thus, in addition to documenting Darwin's activities, Costa writes of his relationship with other scientists of the time, including Sir Charles Lyell.
Among other work, Lyell popularized the ideas of James Hutton whose geological theories were foundational to the way that we currently think about the earth and its processes. Hutton's theory of Uniformitarianism, a theory which Lyell and Darwin discussed, is the idea that "Earth's geologic processes acted in the same manner and with essentially the same intensity in the past as they do in the present and that such uniformity is sufficient to account for all geologic change." This theory is also applicable in a broader sense across the sciences as a foundational idea that basic processes today are likely to have been similar or identical in the past, i.e., that we can use modern observations and ideas to understand past patterns, unless, of course, there is evidence that the processes themselves have changed.

This way of thinking about the world—that processes lead to change, that these processes and changes have led to modern observable or deducible patterns, and that observation is essential to document and understand such changes and patterns—was very influential to Darwin and his work as an observer and experimenter. Throughout the work, it is made clear that Darwin did not work or write in a vacuum. Costa's depth of knowledge related to the history of science during the years of Darwin's activity results in a rich and detailed narrative.
The hybridity of Darwin's Backyard is owing to the at-home experiments included at the end of most chapters. In addition to documenting Darwin's work and collaborators, Costa has provided ways for those curious about the natural world to recreate Darwin's experiments and see, as he did, results that can be used as evidence for his theories, including evolution. (Note that although most of the experiments are accessible to all ages, the narrative sections have been written for adult readers.) Home scientists can experiment as Darwin did, perhaps arriving at the same conclusions, and perhaps forming different hypotheses of their own.
James T. Costa will be speaking at the LuEsther T. Mertz Library of the New York Botanical Garden this Friday, September 22. Please view details and RSVP here.