Designing with Succulents
Posted in From the Library on September 18 2017, by Esther Jackson
Esther Jackson is the Public Services Librarian at NYBG's LuEsther T. Mertz Library where she manages Reference and Circulation services and oversees the Plant Information Office. She spends much of her time assisting researchers, providing instruction related to library resources, and collaborating with NYBG staff on various projects related to Garden initiatives and events.
---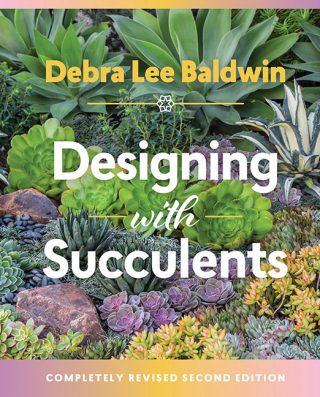 As I browsed Designing with Succulents, recently published in its revised second edition by Debra Lee Baldwin for Timber Press, I attracted some attention. "I love succulents," multiple co-workers informed me, looking longingly at Baldwin's book. After encouraging them to check out the library's copy, I went back to my reading for this review. I have to agree with my coworkers. I love succulents! I love caring for my small houseplant collection as well as seeing ambitious and riotous garden designs and plantings that feature these plants.
Succulents are appealing for many reasons including their bright, bold colors, use in low-water landscapes, and relatively low-maintenance as both house and garden plants. In her new book, Baldwin scintillates those who are already succulent enthusiasts and inspires those who have dreamed about growing succulents but haven't yet taken the plunge.

The second edition of Designing with Succulents comes ten years after Baldwin's original 2007 book. Marketed as being completely revised from the original, it is just that. The new edition has much more information including many more photos offering garden design inspiration and an expanded plant palette. Baldwin is a talented writer who has a clear style of writing that is easy to understand—no small feat! This book can be read cover to cover or in bits and pieces at a time. Are you looking for a garden design to inspire you? There's a section for that. What about the perfect blue-grey succulent for your design plan? There's a section for that, too. How about Baldwin's favorite varieties of Aloe? Yes, indeed, there's a section for that!
One of the strengths of this book is definitely the photographs and narrative that Baldwin included related to the succulent and desert gardens she visited and documented. While not all landscapes would be feasible in the Northeast, there are still inspirational elements that are applicable. This material, in particular, makes this second edition unique and worth a look. Personally, I quite enjoyed a photograph of Baldwin's own garden that featured a "dry lily pond" with Othonna capensis, Opuntia leaves arranged horizontally to simulate water lily rosettes, and Graptoveria rosettes playing the part of lily flowers. The vignette, dressed with pumice, tumbled glass, and flat floral marbles is beautiful, evocative, and appropriate for a small space.
For those who don't have a yard in which to garden, Baldwin includes many suggestions for container gardens and succulent houseplant care including watering, grooming, propagation, and more. Regardless of where one has a succulent "garden," Baldwin emphasizes the importance of design. Whether planning a large landscape, a small plot, or a home terrarium, with the beauty and diversity of succulents at one's fingertips, thoughtful plant placement and design are the key elements needed for a planting that will inspire. For those looking for quick online succulent houseplant troubleshooting tips and care, both are addressed in this NYBG Gardening guide courtesy of the NYBG Plant Information Office.
Home gardeners as well as those looking for a "Zen" book-cation of browsing gorgeous plant photographs should read (and purchase!) Designing with Succulents. Readers will be inspired by both plants and design, and take away principles and projects to incorporate more beauty into their surroundings and everyday lives.