The Life of a Labeler
Posted in Horticulture on September 13 2017, by Kristine Paulus
Kristine Paulus is NYBG's Plant Records Manager and Becky Thorp is the Senior Plant Recorder. They are responsible for maintaining the records of the Garden's living collections.
---
Lush green lawns, majestic trees, and artfully designed flower gardens may be the first thing visitors notice when they arrive at NYBG, but as a botanical garden, our mission goes well beyond the creation of a beatiful landscape. For 125 years, NYBG has served as a cultural and educational institution where anyone can learn about horticulture and botany. One of the simplest and most effective ways we carry out this part of our mission is through the documentation, tracking, and labeling of plants. Just as visitors to an art museum learn to tell a Titian from a Twombly by reading display labels next to each work, botanical garden-goers learn to differentiate a tulip from a trillium by looking at plant labels.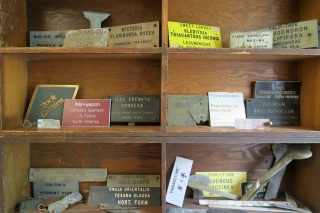 Every aspect of labeling the garden's tens of thousands of plants, including research, database work, production, and placement of labels in the landscape, is managed by the Plant Records Department.

The process begins with research of the plant's current botanical nomenclature (name). In this age of DNA analysis and genome sequencing, botanists have gained a thorough understanding of the evolutionary relationships between plants, which has led to a great deal of plant reclassification and name changes. NYBG checks authoritative sources such as The Plant List and the USDA's Plants database for the most current consensus and strictly follows the guidelines of The International Code of Nomenclature.
Once current botanical nomenclature has been confirmed, the plant is accessioned similarly to how a painting would be in a museum. Each plant is assigned a unique identifying number and a database record is created with essential information, such as the origin of the plant and the date and location of planting within the garden. Further information is added throughout the plant's lifetime: transplanting, pruning, measurements, health, phenophases such as flowering and fruiting, research use, and more. Though no plant can live forever, its record is kept permanently; NYBG has plant records that date back to the Garden's founding in 1891. The Mertz Library Archives house these very first accession logs, which are filled with beautiful 19th century handwriting.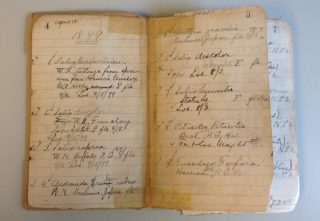 The next step of accessioning a plant is the creation of the plant's accession tag and display label, both of which are made in-house. Accession tags are small aluminum cards embossed with a plant's accession number (which links it to the database record), botanical name, family, and origin. Tags are screwed into tree trunks, attached with wire on the branches of shrubs, or mounted on small metal stakes and placed in the soil at the base of herbaceous plants. Display labels are engraved on brown plastic and are composed of the plant's common name, botanical name (genus and specific epithet), family, and native range or cultivar name. These labels are either attached to an aluminum stake and placed in front of herbaceous plants or shrubs, or in the case of large trees, they're attached to a wooden block and mounted on the trunk.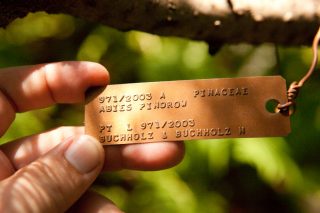 Plant enthusiasts who want to learn more about the Garden's plants collection can log onto Garden Navigator to look up plants by botanical or common name, garden location, or even flowering time. Garden Navigator displays plant locations on a map, cultural information for growing them, photographs, and any phenophases (seasonal changes like flowering or fruiting) that have been observed by staff and volunteers.
The Plant Records staff would love to hear from you! Contact Kristine Paulus, Plant Records Manager, and Becky Thorp, Senior Plant Recorder at plantrecords@nybg.org with any questions or comments.