Dr. Eleanor's Book of Common Ants
Posted in From the Library on November 6 2017, by Samantha D'Acunto
Samantha D'Acunto is the Reference Librarian at The New York Botanical Garden's LuEsther T. Mertz Library.
---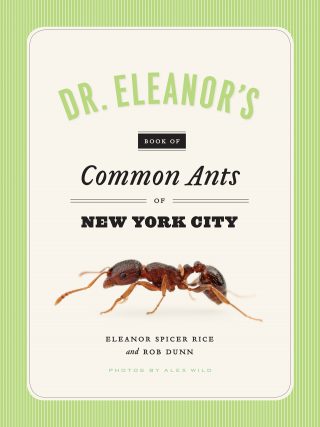 In the bustling streets of New York City, there are small details that are often drowned out by the sensory overload of the environment. One of the smallest of those details would be the ants of the five boroughs. At only a little over 100 pages, Dr. Eleanor's Book of Common Ants of New York City is a rich resource that will satisfy curiosities about these small communities. Authors Eleanor Spicer Rice and Rob Dunn aim to highlight the remarkable strengths of these small animals and the large impact they have on our city.
Organized in fourteen chapters titled after individual ant species, each chapter offers a concise narrative packed with information. Before exploring the chapters, pay close attention to the preface and the introduction as they provide a base of information that will be useful as you read further. Each chapter begins with species name (scientific name), AKA (common name), size (mm), where the species lives, and what the species eats. The narrative is accompanied by the brilliant macro photography of Alex Wild, allowing the readers to experience the intricate visual details of the ants and their environments.

The amateur entomologist is certain to take away plenty of information from the easy to read narrative. A few ant species highlighted in this compact book are the carpenter ant (Camponobtus pennsylvanicus), thief ants (Solenopsis molesta) and engineering ants (Lasius). Rice and Dunn invite readers to become acquainted with the friendly ambassador to the human world, the Camponobtus pennsylvanicus—more commonly known as the carpenter ant, which can be found roaming in every backyard. Like the hulking metropolis that is New York City, ant colonies require careful and skillful engineering. Lasius ants are brilliant soil engineers; their tunnels help aerate and revitalize soil while hosting all the members of their colony. In an opportunistic city like New York, even the ants have an agenda! Thief ants or Solenopsis molesta are tiny robbers, making off with almost anything they can carry.
While reading Dr. Eleanor's Book of Common Ants of New York City you may begin to find yourself advocating for our ant neighbors and may even want to welcome them into your home. Rice and Dunn provide step-by-step instructions and professional advice for ant keeping indoors. Learn to select species, manage environments, and organize feeding schedules.
Ant enthusiasts of any level will enjoy Dr. Eleanor's Book of Common Ants of New York City. Early readers comfortable with chapter books may find this narrative slightly challenging because of the scientific vocabulary. This should not deter readers who are interested in the subject, because the detailed glossary provides the meanings of any unknown scientific terminology. Dr. Eleanor's Book of Common Ants of New York City is the perfect book to take with you as you explore the five boroughs, conduct research for a school project, or read for leisure.