Indoor Edible Garden
Posted in From the Library on December 21 2017, by Esther Jackson
Esther Jackson is the Public Services Librarian at NYBG's LuEsther T. Mertz Library where she manages Reference and Circulation services and oversees the Plant Information Office. She spends much of her time assisting researchers, providing instruction related to library resources, and collaborating with NYBG staff on various projects related to Garden initiatives and events.
---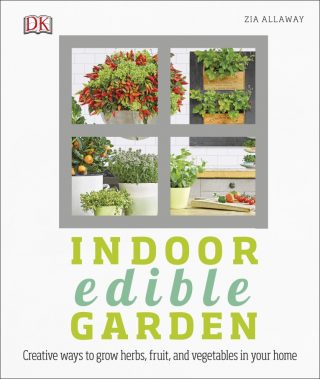 Books from the publisher DK are some of my favorite reference resources. Their pictorial components, overall design, and wealth of information are truly a delight. When I learned about a new DK book by Zia Allaway, Indoor Edible Garden: Creative Ways to Grow Herbs, Fruit, and Vegetables in Your Home, I was very excited to check it out.
If you are only going to buy one book about indoor gardening this year, make it Indoor Edible Garden. This resource is packed full of helpful information, detailed diagrams, and creative indoor gardening projects. This book instills confidence and knowledge in beginners and inspires creativity and experimentation in the more experienced.
The book is divided into six sections: planning an indoor edible garden; herbs and edible flowers; sprouts, leaves, and roots; fruiting vegetables; fruit; and experts' tips. One of my favorite parts of the book comes early on—a series of helpful diagrams indicating "zones" indoors where gardeners can grow vegetables based on light and temperature restrictions and requirements. One of the most challenging aspects of indoor gardening is light, and Indoor Edible Garden is a great resource for information about this crucial component.
Within each section, projects range from simple to more complex, with the requirements for each project including supplies, time to set up the project, and ongoing maintenance of plantings clearly indicated. One of my favorites is the suggestion to grow microgreens in silicone muffin cups (pp. 84–87). This project, like so many in this book, is creative, relatively simple, and clearly communicates to home gardeners what is needed for indoor garden success.
Whether you are looking for a book for yourself, or a last-minute holiday gift for someone special, Indoor Edible Garden is sure to delight and inspire.