Landscape of Dreams
Posted in From the Library on December 19 2017, by Esther Jackson
Esther Jackson is the Public Services Librarian at NYBG's LuEsther T. Mertz Library where she manages Reference and Circulation services and oversees the Plant Information Office. She spends much of her time assisting researchers, providing instruction related to library resources, and collaborating with NYBG staff on various projects related to Garden initiatives and events.
---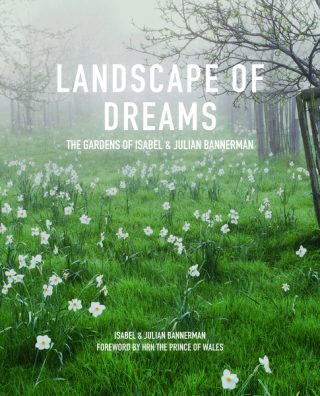 Landscape of Dreams: The Gardens of Isabel & Julian Bannerman is an exquisite landscape architecture and landscape history book authored by the designers and published with Pimpernel Press. The forward by HRH The Prince of Wales (Prince Charles) begins, "For me, [the Bannermans] are the worthy heirs of William Kent, one of the greatest and most creative of early eighteenth century 'designers' who, like Julian and Isabel, managed to combine the arts of architecture, landscape and interior design in one seamless, unified theme. To do this believably, and with such original élan, is a mark of their unique contribution to society." The anticipation after reading these words was palpable, and the book did not disappoint.
The Bannermans met in the 1980s and received their first garden commission in 1990. Their aesthetic harkens back to the Scottish art scene from which they emerged, and is also heavily influenced by classic garden literature. Landscape of Dreams is not only a lovely book filled with beautiful photos of the gardens the couple has designed, but also a window into their inspiration and processes. The first part of the book includes a history of their beginnings as designers, including literature and landscapes influential to their development.

The Bannermans' landscapes of dreams can be found in formerly overgrown fields and forgotten hardscapes, manicured estates, and busy urban centers. The duo has designed landscapes on many prominent British estates, as well as the Queen Elizabeth II Memorial Garden to 9/11 in New York City. In total, sixteen of their gardens are treated in this book. It's difficult for me to say which garden is my favorite. All of the photographs are transportive and evocative, and I wish I could explore each of the 16 landscapes in person. Elements repeat between the gardens; in particular I love the designers' use of wood. Natural shapes, such as tree trunks, roots, and carved sculptural elements, along with erected wooden structures add height and focal points to many landscapes. The stone and metal work are thoughtful and balanced, and the plantings are textured, layered, and vibrant.
Many of these "new" gardens have aged, distressed elements nestled in exuberant but immaculate plantings. Beautiful too are the more formal, contained spaces that rely more heavily on hardscaping and the patterns of light to balance space. So much work has been done to achieve this feeling of timeless quietness, of landscapes that have materialized from dreams, accessible to travelers who pause, appreciate, and explore. For those who love landscape architecture, garden design, and landscape history, this book is not to be missed.