Fourth-Graders Create Art Inspired by the Holiday Train Show
Posted in Children's Education on February 6 2018, by Tai Montanarella
Tai Montanarella, Marian S. Heiskell, Associate Director, School and Out-of-School Programs
---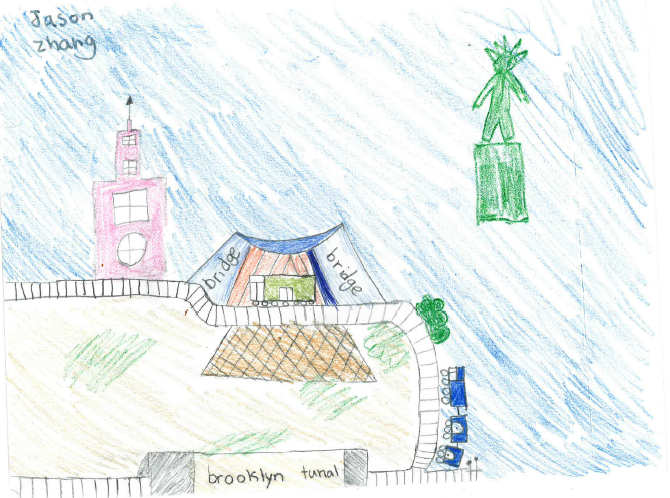 One of the rewards for leading plant science workshops at the GreenSchool in the Enid A. Haupt Conservatory for school groups is often the lovely drawings and letters of thanks we receive from students afterward. However, when we received the garden-inspired artwork of Mrs. Foley's fourth graders from P.S. 107 in Flushing after they visited the Holiday Train Show in December, I knew from their drawings and writing that these were not just obligatory thank you notes, but recollections of heartfelt experiences.

Had this special group of young people joined the ranks of hundreds of thousands of visitors over the past 20 years in creating their own special Holiday Train Show memories? Judging from the detailed pictures of the plant landscapes surrounding the buildings and tracks, the beautifully illustrated acorn tops, bark and seeds adorning the buildings, and the execution of perspective in the drawings, I would say this class captured the magic of the train show which draws people back year after year for their own traditions.
[Not a valid template]
While the next Holiday Train Show does not come around again until November, rest assured, the Enid A. Haupt Conservatory always has inspiring plant exhibitions to spur botanical thinking and art making. In fact, students will have the opportunity in May to enter a Hawaiian paradise evocative of the landscapes that inspired the paintings of American artist, Georgia O'Keeffe. By signing up for the GreenSchool Workshop or Interactive Tour of Georgia O'Keeffe: Visions of Hawai'i, students will explore the remarkable flora and ecological complexity of Hawai'i and create their own artwork.
Of course, you will not have to be part of a school group to experience Georgia O'Keeffe: Visions of Hawai'i and be inspired to create art of your own. However, if you do, please be kind enough to share it with us!