Remembering Gary Lincoff, An Amazing Teacher
Posted in People on April 24 2018, by Joyce Newman
Joyce H. Newman is an environmental journalist and teacher. She holds a Certificate in Horticulture from The New York Botanical Garden.
---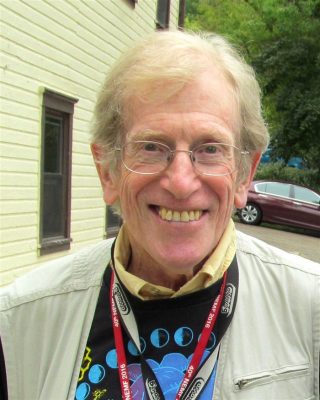 Gary Lincoff taught for more than 40 years at NYBG. He passed on March 16 after a stroke at the age of 75. For those of us who took Gary's classes, he remains so alive in our memories—his stories, the coursework he required, and his motivational advice are still working on our minds.
I first met Gary in the spring of 2011. I'm sure if he were alive that he wouldn't remember me at all from among the thousands of students he taught. But his course "Introduction to Plant Science" was one of the all-time best classes for me.
In his class, which was required for a Horticulture Certificate, we handled plant specimens that Gary provided from 10 major plant families and closely read chapters of Brian Capon's book Botany for Gardeners. But the most important course requirement for me was keeping a daily journal of plant "events"—what I saw each day on garden walks and how those things changed over time, using my own drawings and plant pressings. For the first time, I felt like a real scientist observing and discovering plants. Gary's class truly opened up a new world.

How to Keep a Botany Journal
As recently as February 21 this year, Gary kept his own daily journal. He wrote:
"BEST DAY THIS WINTER – FEB 21, 2018 – 78 DEGREES

A DOZEN FLOWERS COME INTO BLOOM

INCLUDING 3 CROCUSES – WINTER JASMINE, KOREAN RHODODENDRON

WINTER ACONITE, FORSYTHIA, PRIMROSE, LOTS OF SNOWDROPS, DAFFODIL LEAVES, ALLIUM, ETC

CORNUS MAS, HELLEBORES"
Gary's instructions on keeping a journal are classic. They specify that you should use a small notebook—one that would fit in your pocket or in a backpack. He asks you to write just one page per day with a date on every page. He suggests:
"Whether you know its name or not, if you notice a shrub or small tree in bloom, especially 'out of season,' it's an observation worth making. You can describe the flower or the general shape of the plant, or photograph it and note in your journal that you took its picture. Look for changes over time; the flowers will fade, fruit will develop, leaf buds might become more conspicuous. These are all observations of a botanical nature that are appropriate for journal entries."
He describes how finding "unusual looking fruits, pods, or nuts on the ground under or near a tree or shrub" might be "something worth investigating and writing up in your journal," because it helps raise questions "like why are there so many acorns underfoot this winter? Or, why does the honey-locust tree (Gleditsia) produce such long pods that no animal seems interested in eating? … Keeping a journal opens your eyes and minds to what's going on with all the plants around you. What are they doing, and when and how are they doing it, and why? This is studying botany as it reveals itself to you. And it's yours for the asking."
Gary's complete list of journal instructions are on Gary's website under the link for his NYBG class. There you can also find some amazing samples of Henry David Thoreau's daily journal from between 1850 and 1860, in which he wrote about plants in the Concord, Massachusetts area, and much more. Gary was passionate about Thoreau.
John Muir and Plant Pressing
Making a set of a dozen plant pressings was a key requirement of Gary's class. He underscored its importance with a story about John Muir, wilderness advocate/botanist/explorer, "who almost single-handedly helped to establish our National Park System…." Another hero to Gary.
Muir pressed thousands of plants on his travels around the country during the late 19th and early 20th centuries. According to a book about his pressings called Nature's Beloved Son, by Bonnie J. Gisel and Stephen Joseph, Muir's plant pressings were part of a long tradition by many of the great botanical explorers and naturalists. Linnaeus carried a plant press on his travels, as did Darwin, and the naturalist Alexander von Humboldt.
Gary enthusiastically describes plant pressing: "It's a skill-set that's easy to learn and one that, should you find yourself some day in some out of the way place, whether it's Papua New Guinea or southern Staten Island, you just might discover a plant that is new to science. Bring a pressing of it back to the New York Botanical Garden, and if it proves to be new to science, you just might become famous overnight!"
Gary's instructions first describe how to dry a plant specimen:
"Place a plant on top of a piece of plain paper towel, and cover it with another piece. Place this 'sandwich' on a flat surface and place books on top of it. Leave for two or three days. Then carefully transfer your dried plant to a piece of pressing paper, to which you will then affix glue or tape, and note your name, the plant's name, and when and where collected.
"If you are "pressing" three-dimensional objects, like branches or fruits or nuts, the dried objects can be affixed to paper with glue or tape, or the fruits or nuts can be housed inside a small box made of a folded 3″ x 5" or 4″ x 6" notecard."
More Than Mushrooms
Although Gary is widely-known for his pioneering work on mushrooms, having written a best-selling Audubon field guide to North American mushrooms and having led many expeditions and tours for both the New York and North American mycological associations, for me Gary was an inspiration for all things botanical and an evangelist for the whole natural world around us.