The Junior Mellon Fellow Research Presentations—Summer 2018
Posted in Humanities Institute on September 14 2018, by Vanessa Sellers
Samantha D'Acunto and Vanessa Sellers, Humanities Institute, Mertz Library
---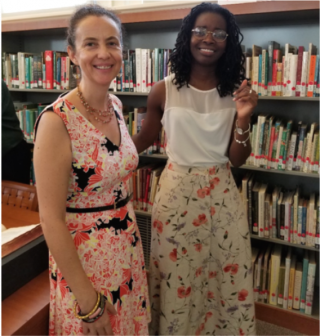 Each summer the Humanities Institute, supported by the Andrew W. Mellon Foundation, welcomes Junior Mellon Fellows to conduct their own research at the New York Botanical Garden. They are invited to discover the resources held at the LuEsther T. Mertz Library, its Archives, the William and Lynda Steere Herbarium and the Garden's Living Collections. As they prepare to leave after their summer of research, they are asked to present their findings to colleagues, NYBG staff, their institutional advisors and professors from surrounding universities, as well as an interested public audience.
On Friday, August 17th Keren Alfred, a recent graduate from Brown University, and Vanessa Sun, a current student at the Macaulay Honors College at Hunter College prepared to share their findings. As an introduction to her presentation The Development of Jamaican Root Tonics, Keren Alfred offered a taste of various Jamaican tonics at the reception's refreshment table, which was enjoyed by all. These tasty fermented beverages are used widely throughout Jamaica and Jamaican communities as health aids of various kinds, she explained. Working together with Dr. Ina Vandebroek, Matthew Calbraith Perry Associate Curator of Economic Botany and Caribbean Program Director, Keren spent the summer looking at the development of root tonics from an ethnobotanical, community-health, and cultural-historical point of view Using historical literature on Jamaican plants from the Mertz Library, Alfred set out to discover when tonics were first developed or introduced in Jamaica. She found the earliest reference to tonics to be dating back only to 1927, more recently than expected, while it was not until 1953 that the word "tonic" itself was actually used to describe the plant-based beverages Sarsaparilla smilex and Smilex aspera were among the plants singled out by Alfred's research as key ingredients to root tonic.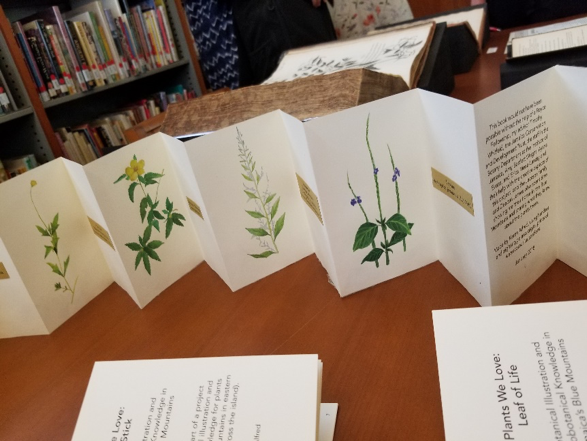 At the closing of her presentation, Alfred prepared an impressive display of historical works from the Mertz Library collections dating back to the early 18th century, including Hans Sloane's A Voyage to the Islands of Madera, Barbados … and Jamaica, Patrick Browne's The Civil and Natural History of Jamaica, and William Fawcett's Economic Plants. An Index to Economic Products of the Vegetable Kingdom in Jamaica (1891). Also included were her very own hand-illustrated and printed booklets Plants We Love: Botanical Illustration and Ethnobotanical Knowledge in Jamaica's Blue Mountains: https://willow.nybg.org/search?/aAlfred/aalfred/1%2C28%2C42%2CB/frameset&FF=aalfred+keren&1%2C1%2C A full set of these elegant and informative foldout booklets were donated to the Mertz Library for all to study going forward.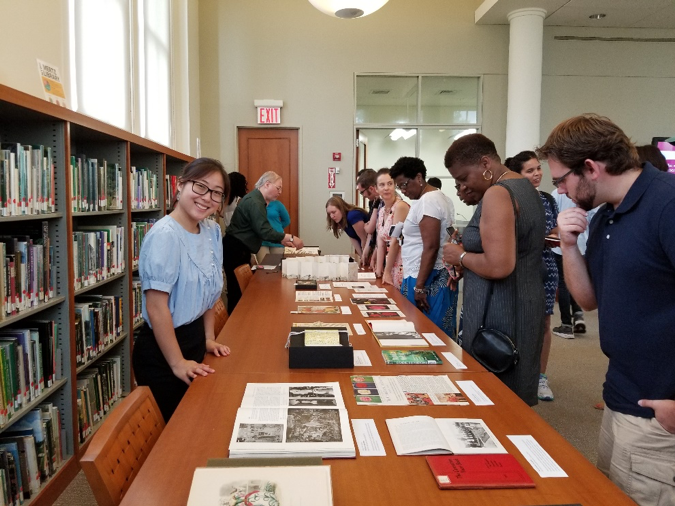 Vanessa Sun's research presentation, entitled Misinterpretations and Meanings of the Apple, Carnation, and Dandelion and Their Portrayals in Our Culture Over time explored various collections at the Mertz Library to uncover both the positive and negative associations of fruits and flowers through the ages. Initially overwhelmed by the task she set herself and amount of information, Sun decided to focus on just a few items, namely the apple, carnation, and dandelion to discover the influence they had on advertisements, artwork, literature, and cultural perceptions. Sun also prepared an exhibit of the original books and art works in the Mertz Library and her display included J.J. Grandville's satirical-poetic Flowers Personified (1847) and brightly colored nursery catalogs featuring apples and carnations.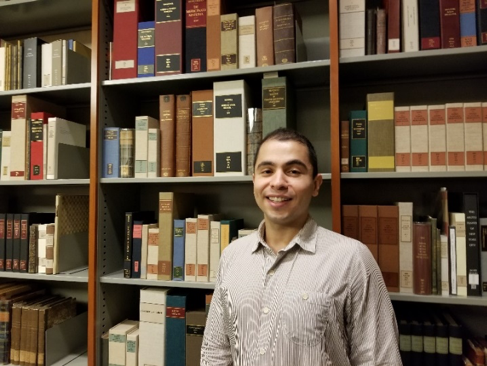 The following week, on Friday August 24th the Junior Fellow presentations continued with Mellon Junior Fellows Andres Orejula, a Ph.D. candidate at the CUNY Graduate Center, Stephen Fragano, a Master's student in the English department at Fordham University and Rebecca Pollack, a Ph.D. candidate at the CUNY Graduate Center offering their research reports at NYBG.
Opening the event was Andres Orejula presenting his research on Poison, Crime, and Horticulture in Early Modern English Drama. His presentation focused on the plants described in the The Duchess of Malfi – a tragic play by the English dramatist John Webster (1612) – and the use of other poisonous plants in contemporary Jacobean plays. Orejuela highlighted the interesting symbolic meaning and perceived magical-occult powers of certain plants, especially the mandrake and the apricot, which resulted in the death of the play's heroin. He showed how the social-folkloric context and medicinal use of plants were clearly reflected in these landmark early 17th-century English plays. To illustrate this further, Orejula also curated an impressive display of herbals and florilegia dating to the Middle Ages in the Rare Book Room.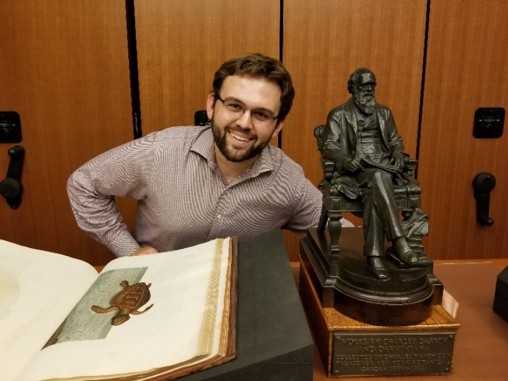 Stephen Fragano's very punny presentation, entitled Sea is for Conservation: The Impacts of Darwin and Sea Narratives on Herman Melville's Early Conservationism, explored both fictional and nonfictional maritime literature. Delving deep into the details of Melville's series of short stories entitled "The Encatadas", Fragano explained the various connections to Darwin's works and the popularity of amateur 'citizen science' during that period, drawing comparisons with todays' ecological thinkers such as Ursula Heize. Astounding travel-adventure books, such as Amede Frezier's Voyage to the South Sea (1715) and unique first editions of Darwin's legendary voyages, including those on the Beagle (1839) were displayed in the Mertz Library's Rare Book Room for all to study and enjoy!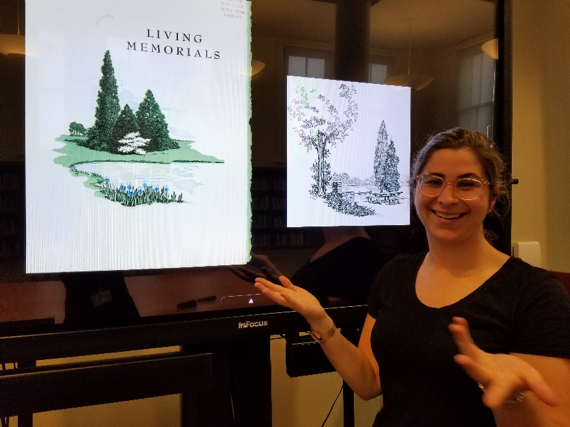 The closing presentation was an overview of the working dissertation chapter by Rebecca Pollack entitled Memorial Gardens: Places to Sit and Remember Pollack focused on Hendon, a garden laid out in a Jewish suburb of London, and the Holocaust Memorial Park laid out by the British military at Bergen-Belsen in the spring of 1945. Pollack shared and compared architectural and symbolic elements that were present in these and various other British Holocaust Memorial Gardens, established over the past forty years. She found that the juxtaposition of organic and inorganic materials was a common design element, though the memorials vary in size, form, layout and choice of symbolic representation, aspects she will define more closely as her research of Holocaust Memorial Gardens continues