Posted in Humanities Institute on November 29 2017, by Vanessa Sellers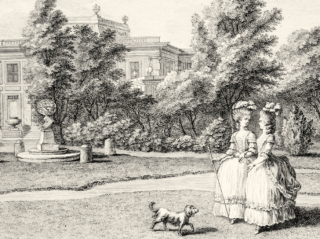 On September 7, 2017, The New York Botanical Garden's Humanities Institute and the Foundation for Landscape Studies, New York, co-hosted the Colloquium Carmontelle's Jardin de Monceau: Celebrating the unique Garden Culture of 18th-century France, held in the LuEsther T. Mertz Library's Shelby White and Leon Levy Reading Room.
The Colloquium marked the starting point of an important project: the publication of a facsimile edition in English of the richly illustrated Jardin de Monceau, an impressive folio-sized volume by Louis Carrogis de Carmontelle (1717–1806), published in Paris in 1779. Designed by Carmontelle for the Duc de Chartres, the actual garden of Monceau still survives today, though in different form, as the much-frequented Parc Monceau at the heart of Paris. The original layout of the garden, with its rich architectural and sculptural features, formed an ideal social setting for the fashionable elite shortly before the French Revolution—a watershed moment in European history that would bring to an end the glamorous lifestyle and mode of garden design reflected in this work. Carmontelle's Jardin de Monceau is a key cultural monument in the history of European landscape design, garden architecture, and horticulture, as well as printmaking and fashion design.