Excursion to Barnard College and the Arthur Ross Greenhouse
Posted in Humanities Institute on November 6 2018, by Vanessa Sellers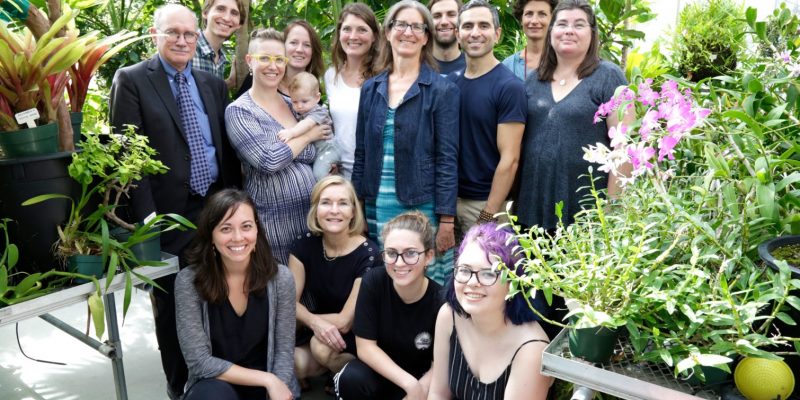 On September 20, 2018, The New York Botanical Garden's Humanities Institute, NYBG Herbarium, and NYBG Conservation and Horticulture staff, students, and fellows visited Barnard College. They were invited for a special botanical Open House at the Arthur Ross Greenhouse in conjunction with the 20th Anniversary of this remarkable facility. The Arthur Ross Greenhouse is a large, state-of-the-art structure balancing high above Broadway & 120th Street atop Milbank Hall that is open to the Barnard and Columbia communities and used by its faculty to teach students about plants and plant evolution.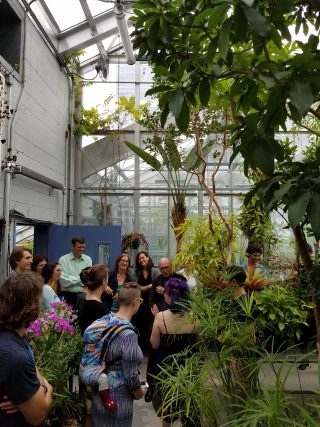 Gathering among the greenhouse's lush green foliage, participants enjoyed the opportunity to meet with colleagues and students from Barnard College and Columbia University, as well as Rutgers University and the New School The excursion's excitement and engagement from professionals and enthusiasts of various backgrounds sparked multidisciplinary discussions that set the energy from the very beginning of the tour and ended in the promise to soon visit each others premises again! Everyone admired the great diversity of the collection, explored various rare plant species from across the continents and different biomes, heard about new techniques in plant care, and talked about shared science-humanities programming in the future.
Hilary Callahan, Ann Whitney Olin Professor, of Biology Barnard College, Columbia University, and Director, Arthur Ross Greenhouse; and Ross Greenhouse Coordinator Nick Gershberg led the tour and set the green-scene by recounting the place's remarkable history, one which you can peruse by visiting Barnard's website.
The visit showed how important the presence of a greenhouse at this spot has been since the inception of the college, not only for the education of female biologists, but all kinds of students. "The living collections support not only, biology but environmental sciences overall, as well as other fields of study such as anthropology and ethnobotany," Gershwin explained. "Like The New York Botanical Garden, this greenhouse attracts a surprisingly broad audience … among its visitors are not only plant specialists, but many artists and writers, each inspired in their own way by its unique locale and beauty."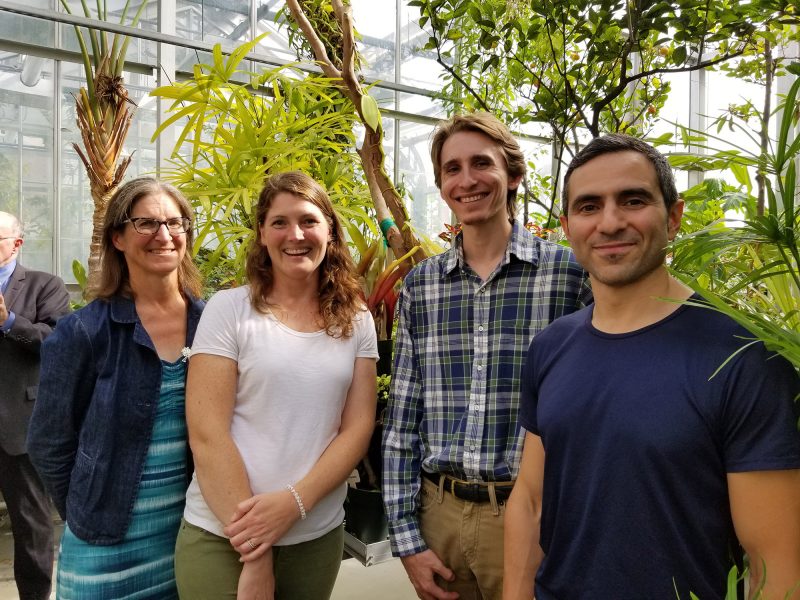 The original Barnard College Board was truly visionary, hiring a woman botanist as its very first faculty member, Emily Gregory (1841–1897), and furnishing its first building, Milbank Hall (1896), with a rooftop greenhouse to equip young women with the knowledge of the natural sciences. "The first greenhouse was constructed during the founding years of Barnard College and it remains an integral part of Barnard's education today, providing access to live botanical materials," Callahan explained. In 1930 the College replaced the original building with a more elaborate facility when the well-known plant biologist Edmund Sinnott (1888–1968) joined the Barnard faculty. Interestingly, the original architectural drawings for this greenhouse by W. H. Lutton Company (a division of Lord & Burnham, noted greenhouse manufacturer responsible for NYBG's Conservatory building), are kept in the Mertz Library Archives at NYBG.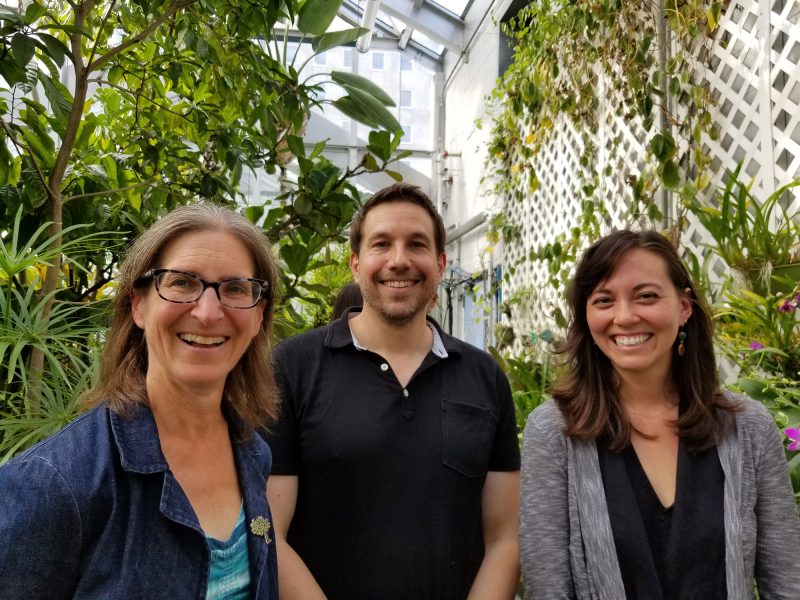 Exiting the Greenhouse to leave Barnard Campus, Brian Boom, Vice President for Conservation Strategy at NYBG, applauded the great diversity of the plant collection. "Seeing the corpse flower grow there at breakneck speed and all those rare cacti and succulents is quite an experience," added Vanessa Sellers, Humanities Research Coordinator, while the Mellon Fellows Ashanti Shih and Geoff Bil, both ethnobotanists, agreed that is was a true eye-opener to find all those extraordinary plants in a greenhouse high above New York: "Really amazing!"