Growing School Gardens and Growing Minds
Posted in Garden News on November 27 2018, by Plant Talk
Judith Hutton is the Manager of Teacher Professional Development at The New York Botanical Garden.
---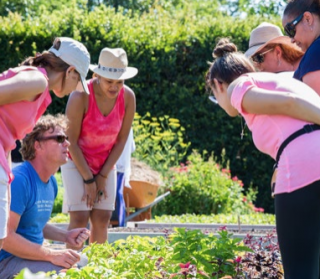 Now in its 24th year, the Garden's Professional Development Program for Teachers reaches more than 3,000 teachers annually from the New York City and Tri-State area. Teachers participate in a range of high quality professional development, including customized workshops and Seasonal Institutes. Courses promote new pedagogy that goes beyond the classroom by utilizing outdoor and informal resources emphasizing real-life science learning.
Seasonal Institutes are dynamic, intensive graduate-level courses, which aim to deepen content knowledge in science, increase comfort level in incorporating science across an interdisciplinary curriculum, and provide tools to use informal resources to support instruction. Science-rich experiences help students understand the natural world, use appropriate scientific principles and processes in making personal decisions, and ultimately engage intelligently in public discourse.

One of the Garden's most popular teacher education programs, Plant, Learn, Grow: Gardening 201, provides curriculum support and professional learning aimed at helping teachers use a school garden to support academic, social and school community growth. During this Institute, teachers take part in lessons exploring themes including plant propagation, botany, garden maintenance, composting, and nutrition.
The Garden's longstanding expertise in gardening education equips teachers with the pedagogical and practical skills to promote excitement about science learning along with healthy habits. Students develop a sense of ownership and pride in the garden and the plants that are grown—and ultimately the pride a student feels about the school itself. An increased sense of pride in one's school contributes to increased parental involvement and ultimately enhanced academic achievement. Children's experiences in the classroom hinge on teachers who not only understand how to use real world experiences to teach, but ultimately also have the confidence and support to implement amazing experiences for their students.
This article originally appeared as part of a series on responsible citizenry in the 2018–2019 issue of Garden News, NYBG's seasonal newsletter. For further reading, view the issue online and discover a sampling of stories about our current efforts and activities that promote, engage, and support active and responsible citizenry on local, regional, and global levels.