New Library Visitors Explore the Special Collections
Posted in Garden News on November 13 2018, by Plant Talk
Esther Jackson is the Public Services Librarian and Samantha D'Acunto is the Reference Librarian for The New York Botanical Garden.
---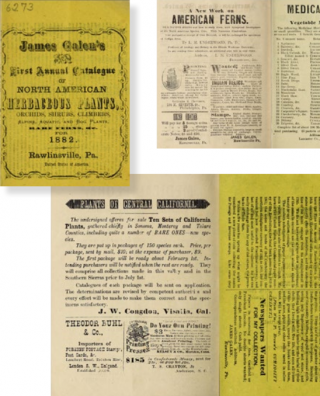 This past spring, LuEsther T. Mertz Library staff invited several NYBG Adult Education classes to view treasures from our special collections. The classes were given tours of the Library and the Rare Book Room where they viewed special collection titles related to their class subjects.
The students from the class Orchid Next Door with Dr. Matthew Pace joined Library staff for a viewing of the First Annual Catalogue of North American herbaceous plants, orchids… (1882) by James Galen, The orchid hunters: a jungle adventure (ca. 1939) by Norman MacDonald, and many other exciting titles. The Hidden World of Lichens class with Dr. James Lendemer joined the Library staff in two sessions to view materials related to the chronological history of lichenology through various materials in the Library's collection. Other sessions included a viewing of 17th- century bulb literature for students of Landscape Plants: Bulbs! with instructors Michael Hagen and Marta McDowell; a review of 19th-century, hand-colored floral illustrations for the students of Designing with Tropical Flowers with Bridget Vizoso; and a peek at the Library's mounted-insect collection for the students of Entomology with Tam Nguyen.

Because the instructors themselves presented course material during the Library tours, students gained a new perspective on the subjects taught in class, allowing them to develop a deeper understanding of their topics. Both students and instructors were excited and enthusiastic about their visits to view materials from the Library's collections.
Exploring the Library and its collections does not end with the class tours. All students and instructors have the opportunity to uncover treasures on their own with their NYBG Library card,
which allows access to the circulating collections, including required course texts and electronic databases that are searchable off-site and provide full-text access to thousands of journals. Instructors are always welcome to request Library tours, including special collections showings for their students; student groups are also encouraged to request tours if they have an interest in a particular topic within the Library's collections.
Because of the success of these sessions, including the enthusiasm of the students and instructors alike, Mertz Library staff will continue to invite more students and instructors so that they also have the opportunity to discover items from the special collections.
This article originally appeared as part of a series on responsible citizenry in the 2018–2019 issue of Garden News, NYBG's seasonal newsletter. For further reading, view the issue online and discover a sampling of stories about our current efforts and activities that promote, engage, and support active and responsible citizenry on local, regional, and global levels