Celebrating 30 Years of Bronx Green-Up
Posted in Garden News on December 16 2018, by Plant Talk
Ursula Chanse is the Director of Bronx Green-Up and Community Horticulture at The New York Botanical Garden.
---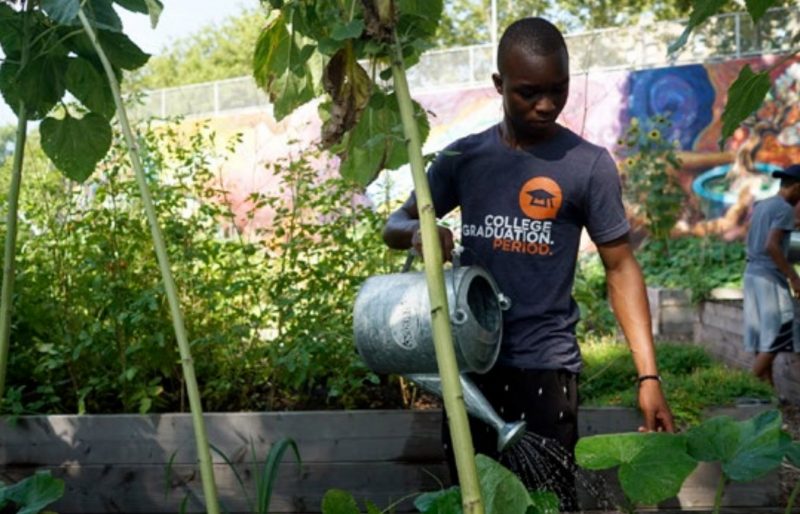 What do rubble-strewn vacant lots, asphalt-covered playgrounds, tiny tracts of land wedged between intersections and train tracks have in common? Each is a perfect location for creating a community garden and urban farm. For 30 years Bronx Green-Up, NYBG's community gardening outreach program, has worked together with our community partners to create vibrant gardens in the most unlikely spaces.

Bronx Green-Up's early years involved navigating City agencies and developing strategies to best utilize NYBG's knowledge and horticulture resources to support the community efforts that were
taking place at the time; Bronx residents who rolled up their sleeves to bring beauty to their neighborhoods. Today Bronx Green-Up provides free horticultural education, training, and technical assistance to the community members who nurture these critical spaces. These unique sites provide fresh fruit and vegetables, green space, respite from city streets, community gathering spaces, educational opportunities, and habitat for urban wildlife.
Since 1988 more than 300 gardens have been created and last year with the help of more than 6,000 hours of community volunteer work, the program reached nearly 4,000 people representing 67 gardens and organizations.
As part of Bronx Green-Up's 30th Anniversary celebration, we are thrilled to partner with the Bronx Documentary Center's student photographers who have spent the summer visiting Bronx community gardens and urban farms. Putting Down Roots, a selection of their photographs, will be exhibited in NYBG's Arthur and Janet Ross Gallery from November 17, 2018 through April 28, 2019.
This article originally appeared as part of a series on responsible citizenry in the 2018–2019 issue of Garden News, NYBG's seasonal newsletter. For further reading, view the issue online and discover a sampling of stories about our current efforts and activities that promote, engage, and support active and responsible citizenry on local, regional, and global levels.