NYBG Partners with Local Schools
Posted in Garden News on December 4 2018, by Plant Talk
James S. Boyer, Ph.D., is the Stavros Niarchos Foundation Vice President for Children's Education at The New York Botanical Garden.
---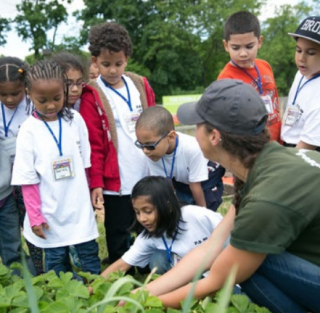 With funding from the New York City Council, NYBG's Children's Education department piloted a new and engaging multisession program in 2017–2018 with five local partner schools that have a long-term relationship with the Garden. These P–5 schools had the option of visiting the Garden—several times throughout the year—providing the opportunity for children to learn multiple garden-based concepts, while experiencing the seasonal changes in this natural landscape. Each session included garden-based, science and nature investigations, allowing children to explore the Garden in different seasons. These field trips provided opportunities to address grade-appropriate standards and practice developmentally appropriate process skills.

Principals and teachers chose from a large selection of programs for their students:
Plant and Nature Investigations: Students investigated how plant and animal life they find within a dynamic environment responds to the seasons, and experienced the natural world first-hand.
Hands-On Plant Science Workshops & Tours: Students engaged in plant investigations inside glass-enclosed rain forests and deserts, observing and collecting information within these diverse habitats, and synthesized their findings with peers in a classroom.
Hands-On Gardening Workshops: From sowing seeds to watering and harvesting, students built interdisciplinary connections among seasons and growing plants while experiencing the excitement of hands-on gardening.
Outdoor Nature Walks: Students investigated the Garden's 250 acres, from the 50-acre Thain Family Forest and Native Plant Garden to the Poetry for Every Season Poetry Walks, observing and collecting information to construct ideas about ecology with their peers.
The 2017–2018 partner schools were:
PS 8X (3010 Briggs Avenue—Norwood)
PS 46X (279 East 196 Street—Fordham)
PS 93X (1535 Story Avenue—Soundview)
PS 119X (1075 Pugsley Avenue—Unionport)
Samara Community School (1550 Vyse Avenue—East Morrisania)
Funding has been renewed and expanded for 2018–2019, allowing us to work with these five existing schools and partner with five more. They will visit NYBG's new Edible Academy four times throughout the year as well as have the opportunity to take part in an additional program workshop.
This article originally appeared as part of a series on responsible citizenry in the 2018–2019 issue of Garden News, NYBG's seasonal newsletter. For further reading, view the issue online and discover a sampling of stories about our current efforts and activities that promote, engage, and support active and responsible citizenry on local, regional, and global levels.