Into the Lowland Rain Forest
Posted in Gardens and Collections on March 14 2019, by Lloyd Jones
Lloyd Jones is an Assistant Gardener in NYBG's Enid A. Haupt Conservatory.
---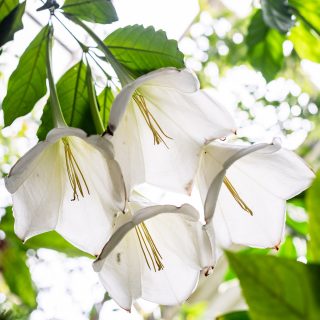 In the heart of the Bronx remains hidden an unlikely treasure, an oasis of lush vegetation untouched by the city. The Enid A. Haupt Conservatory houses one of the world's most diverse living collections of plants. As one of the gardeners who cares for this green paradise, I'd like to invite you to stroll through the Lowland Rain Forest, home to many plants with extraordinary characteristics.
One of the world's rarest plants is Osa pulchra. Sadly, only 30 known specimens exist in the wild in Costa Rica and Panama. However, it is cultivated in several botanical gardens, including NYBG. The Garden's specimens have been growing here since 2006 when we received them in an exchange with The Huntington Botanical Garden in San Marino, California. The delicate trumpet-shaped flowers, similar to those of Brugmansia, are quite a sight to enjoy, and I'll share with you an insider tip: the best time to experience the flowers is when the sun passes overhead and you can see the flowers from underneath. You will find Osa pulchra blooming in the lowland rain forest, midway down the path on the courtyard side of the building.

A recent addition to this plant gallery is Psychopsis papilio, or butterfly orchid. This intriguing orchid was a highlight of last year's Orchid Show and has been on display since being added to the permanent collection. The psychopsis orchid has not been shy about showing off its flowers, producing repeated blooms over the last few months. In fact, this is a genus of orchids which does not require a rest period between flower cycles. I have never known any orchid, other than phaelanopsis, to put on a flowering display for quite so long. This prestigious orchid, with its large yellow and orange flowers, is notable for its central role in setting off the "orchid craze" in Europe during the mid 19th century. You'll have to look up to find this orchid's yellow and orange butterfly flowers, tucked up in the tree canopy much like it would be found on trees in its native rain forests of South America.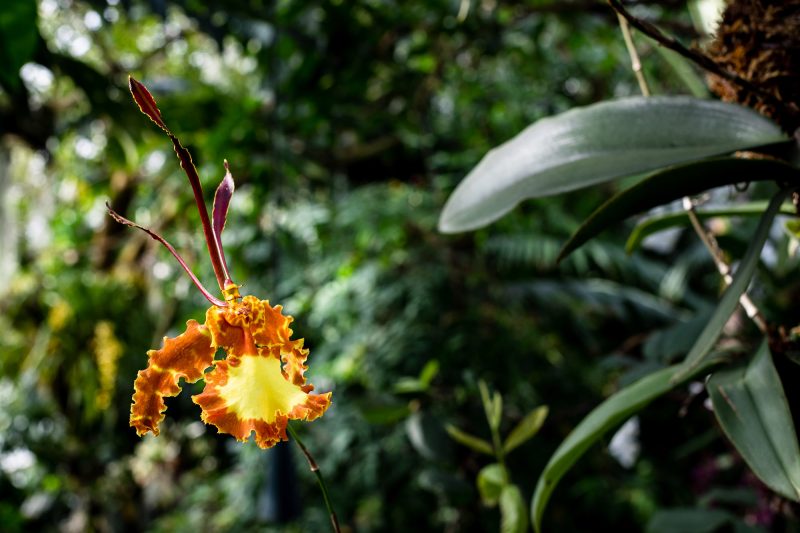 A northeast winter can be long and exhausting. During this period of short days and cold nights, most plant life is in deep sleep, awaiting spring. The place to escape this frozen landscape is the Enid A. Haupt Conservatory, where the many spectacular plants and flowers are going strong despite winter, and The Orchid Show: Singapore is a highlight. Come witness its beauty and enjoy learning about tropical plants.