Posted in Around the Garden on April 16 2019, by Lloyd Jones
Lloyd Jones is an Assistant Gardener in NYBG's Enid A. Haupt Conservatory.
---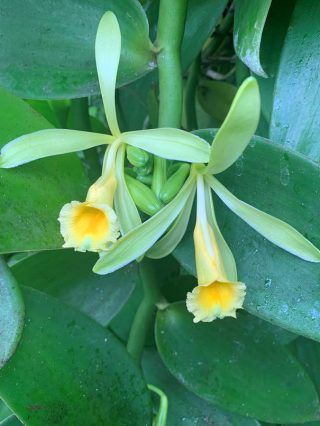 Within the Lowland Rain Forest house of the NYBG's Enid A. Haupt Conservatory exists the only orchid genus from which a culinary product is derived. Native to the tropical Americas, it is widely cultivated in tropical climates throughout the world. Vanilla planifolia is an orchid of unusual orchid characteristics, but provides a popular, gratifying flavor. The opposite and alternate foliage is flat, thus the specific epithet "planifolia." It is classified as an epiphytic/terrestrial tropical vine with aerial roots for support and to collect nutrients and water. This plant thrives in moist, humid, and warm conditions with filtered light. The name vanilla comes from the Spanish word vainilla, meaning small pod.
This year I have personally counted 13 clusters of flower buds, which are now unfolding one bud per cluster, per day. The flower color ranges from light green to pale yellow, and, because the native pollinator is not present outside the orchid's native range, it must be hand pollinated during the morning of the first 24 hours when they flowers are receptive. For both educational and collections purposes, we plan on hand pollinating the flowers as they successively open. If pollination is successful, we expect to see the familiar vanilla pods forming over the next few months. Come visit and witness the origin of one the world's favorite flavors!