Beatrix Farrand's American Landscapes—A Documentary World Premiere
Posted in Humanities Institute on April 16 2019, by Vanessa Sellers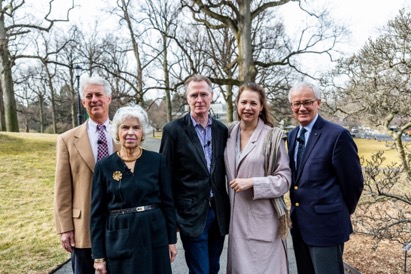 Friday, March 15, 2019 marked the Sixth Annual Humanities Symposium. To celebrate the occasion, the Humanities Institute, together with NYBG's Department of Adult Education, invited audiences to the screening of an important new documentary, Beatrix Farrands's American Landscapes.
Opening the program was Carrie Rebora Barratt, Chief Executive Officer and William C. Steere Sr. President of NYBG, who enthusiastically welcomed the audience stating that the film screening could not have been timelier as March was Women's History Month. She continued to say that celebrating Beatrix Farrand—the only female charter member of the American Society of Landscape Architects—was to acknowledge the vital role women have played and continue to play in American history and culture today.

Barratt went on to say that Farrand, a pioneer in landscape architecture, had created inspirational landscapes throughout the nation. Her works included gardens at the Morgan Library, the White House, the Abby Aldrich Rockefeller Garden in Maine, Acadia National Park, Dumbarton Oaks, Campus designs at Princeton and Yale; and our own fabulous Peggy Rockefeller Rose Garden here at NYBG! In her closing statement she gave a warm thanks to the Mellon Foundation for continued support of the Humanities Institute and to the members of the Beatrix Farrand Garden Association who dedicate their work honoring Farrand's gardening legacy.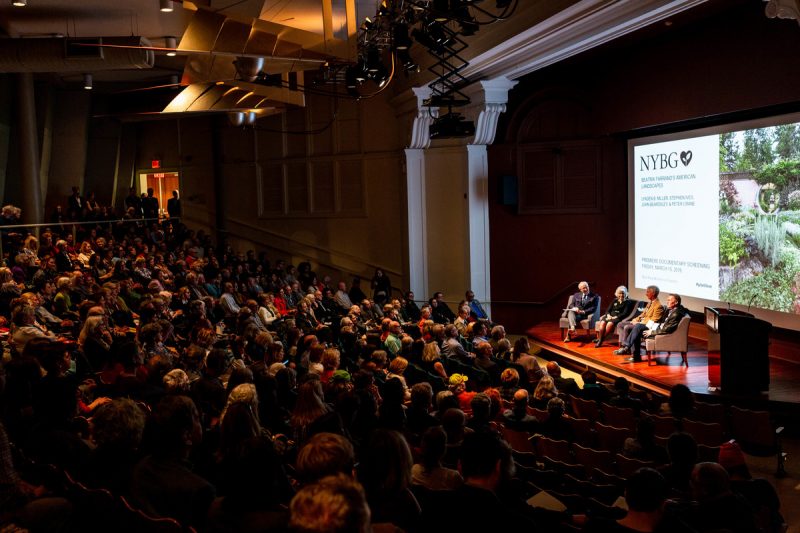 President of the Oak Spring Foundation and Moderator for the event, Sir Peter Crane, took the stage to introduce the Emmy-award winning director Stephen Ives and his wife, horticulturist Anne Cleves Symmes, an inspired garden educator at the Beatrix Farrand Garden Association.
As the film opened to a bright; sun drenched scene, a hush came over Ross Hall and the viewers found themselves in Farrand's "Secret Garden," her first public garden at Hyde Park where a garden educational workshop for teenagers was taking place. The enthusiastic responses from the workshop participants revealed the continued relevance of Farrand's layouts today. The film's main narrator is Lynden Miller—Farrand's 21st century 'dubbel-ganger'—whose eyes are the lens through which the viewer experiences her landscapes. As New York's best-known public garden designer and restorer of the Conservatory Garden and Bryant Park her career story is cleverly interwoven with that of Farrand's and enhanced by current interviews with various experts and scholars in the field Inviting along an enthralled audience, Miller set out on a journey to unearth Farrand's visionary legacy explaining in a clear and direct way what is unique and often surprising about Farrand's garden designs and plantings. Recalling her own garden creations, restorations, mistakes and successes, Lynden leisurely walks through Farrand's creations, pointing out the excellent horticultural choices, daring view-lines, uncanny spatial sensibilities and sophisticated ways in which she developed her ideas, "while always keeping maintenance in mind!"
The superbly made documentary matches its heroine's sense for perfection in all details: aesthetic refinedness and technical prowess do wonders in bringing to life Farrand's whole age, while showing her visionary landscapes. The smart intermixing of original photos and 19th-century reels of New York City make for a fascinating story from beginning to end. There were beautiful headshots of Beatrix Farrand and her family members—many somewhat melancholic looking—as well as pristinely restored pictures Farrand made while visiting European gardens to develop her knowledge of garden architecture. Her own garden designs were presented in a uniquely inventive way: during the various stages of their completion. Most impressive is Dumbarton Oaks' creation history, a tour de force of landscape architecture across various terraces and extending over a period of twenty years. "The Bliss's happily enough had real 'stick ability,' Peter Crane observed dryly.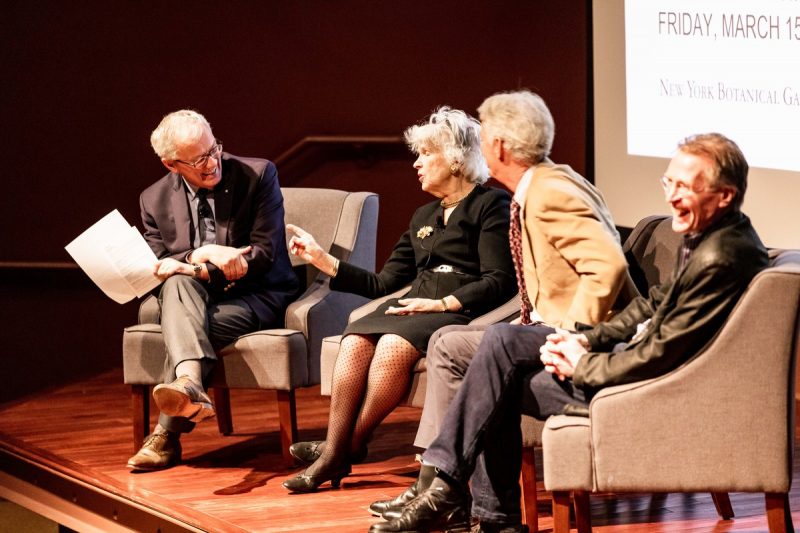 A lively conversation followed the film. Joining Crane and Ives for the discussion were Lynden Miller and John Beardsley, Program Director of the Center for Garden and Landscape Studies at Dumbarton Oaks, Washington, D.C.; and (though not included in the panel discussion), landscape architect and eminent Farrand scholar Patrick Chassé, and well-known cultural critic and garden writer Paula Deitz (Hudson Review).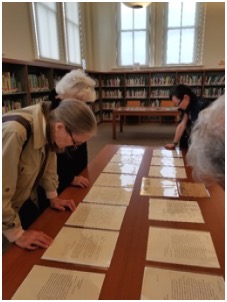 Director Stephen Ives started the conversation by stating that the most challenging aspects of making this film "is that you don't have your hand on the weather and most of it is filmed outside, with planes flying over every time an interviewee just says something truly profound. Filming is a collaborative effort, and in fact I like to start with a big shout-out for the film's funders and makers, the editors, sound experts and musicians (the Beatrix Farrand Ensemble), without whose generosity and artistic input this documentary would not have been possible." How to remember someone like Beatrix Farrand? "Farrand created a truly distinctive American voice in landscape design, the legacy of which continues today and into the future," said Lynden Miller "A good example of her living legacy," John Beardsley added, "would be Michael van Valckenburgh, whose landscapes are clearly inspired by Farrand's style and palette, her sense for native gardens and rigor of maintenance. No wonder, he rubbed shoulders with her when working at Dumbarton Oaks in the 1970s!"
At the end of the program the crowd slowly cleared from the Ross Hall as audience members shared their thoughts on the film. "What an amazing visual and auditory accomplishment," a horticultural student remarked A Garden Member explained "I loved this formula of walking along with Lynden Miller, hearing her comments, it really explains well the essence of Farrand's life and work," "Farrand was very courageous, wasn't she? It feels like I know her personally now," said a student from Columbia Architectural School.
Completing the morning's program, visitors enjoyed a special viewing in the LuEsther T. Mertz Library of Farrand's original designs for the Peggy Rockefeller Rose Garden and the private correspondence with Nathaniel Lord Britton, founder of the New York Botanical Garden.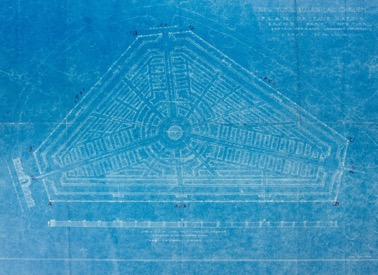 To view Beatrix Farrand's American Landscapes, check this listing of upcoming events. You can see a trailer for the film below.
Beatrix Farrand Trailer URL H264 from Insignia Films on Vimeo.