#plantlove: Fabian Michelangeli, Curator in the Institute of Systematic Botany
Posted in People on April 22 2019, by Matt Newman
As part of #plantlove at NYBG, we're talking with people from all over the Garden about what inspires their passion for plants and our environment. Today, meet Fabian Michelangeli, Curator in the Institute of Systematic Botany at NYBG.
---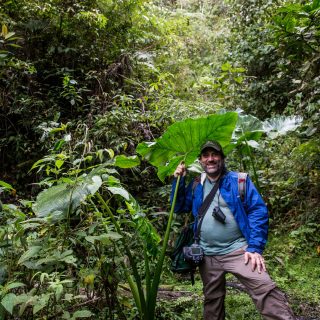 I grew up outside Caracas, Venezuela, on the campus of a research institute where my dad is a researcher. All three of my maternal great uncles were systematists or taxonomists of some type, so it's no surprise that I ended up working in biology. I always knew that this is what I would do, as I've always loved evolution and adaptations to new environments, and learning how organisms cope with that. Plants are a great system to answer questions about evolution and adaptation.
I've gone collecting from areas at sea level to those at 13,000 feet above; places where you collect from your car, to places that require a week's hike, or many days by boat. I'd rather be cold and wet in my tent than sitting at my computer. For my undergraduate thesis, I did an ecological study on the top of a mountain in southern Venezuela, by myself for a week while focusing on small mats of vegetation that grow on rocks. That, to me, is still one of the best weeks of my life, 25 years later.

Sometimes, you're walking in the field, and you find a plant and know the moment you see it that it's a new species. It's an endorphin high, just knowing. I collect plants, and do the work that I do, to know where plants grow, to understand their anatomy, so I can answer questions about their evolution and help us as a species manage our environment properly.
Check out Fabian's 2018 collecting trip in the cloud forests of Peru for an idea of what our scientists tackle in their day-to-day work.