Bronx High School Students become Naturalists at NYBG
Posted in Children's Education on May 7 2019, by Tai Montanarella
Tai Montanarella is the Marian S. Heiskell Associate Director of School and Out-of-School Programs at The New York Botanical Garden.
---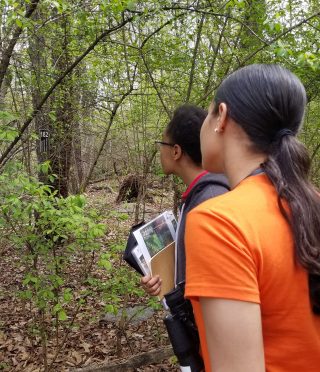 What does a Bronx high school student enjoying a spring break vacation today have in common with pioneering 19th-century American botanist John Torrey? If they participated in the week-long Gaining Early Awareness and Readiness for Undergraduate Programs (GEAR UP) Citizen Science Institute held at NYBG's GreenSchool, they found at least one lofty commonality: engaging in scientific pursuits during leisure time.
It was during the capstone seminar with Esther Jackson, Public Services Librarian at the Garden, that they discovered this connection and other surprising ones. Esther shared the current work citizen scientists are doing transcribing The John Torrey Papers, an important collection of documents of Torrey's correspondence, manuscripts, notes, and botanical illustrations held in the Archives of the Garden. Students learned from reading these historic documents how the scientist whose work collecting, describing, and classifying plant specimens from around the world wholly resounded with their own experiences over the course of their week across Garden grounds and beyond. More importantly, they came to connect how the rigorous work they engaged in might one day also hold historical significance to important contributions to science.

Students had the opportunity to build understandings about the importance of biodiversity as they became citizen scientists—and part of the effort to document all of the plant species that call our city home—while preparing for their first EcoQuest Challenge. EcoQuest, part of the New York City EcoFlora Project, led by the Garden's Center for Conservation Strategy, is a Citizen Scientist initiative that helps the public observe, study, and help conserve the native plants and animals of the City via iNaturalist, an easy to use mobile app.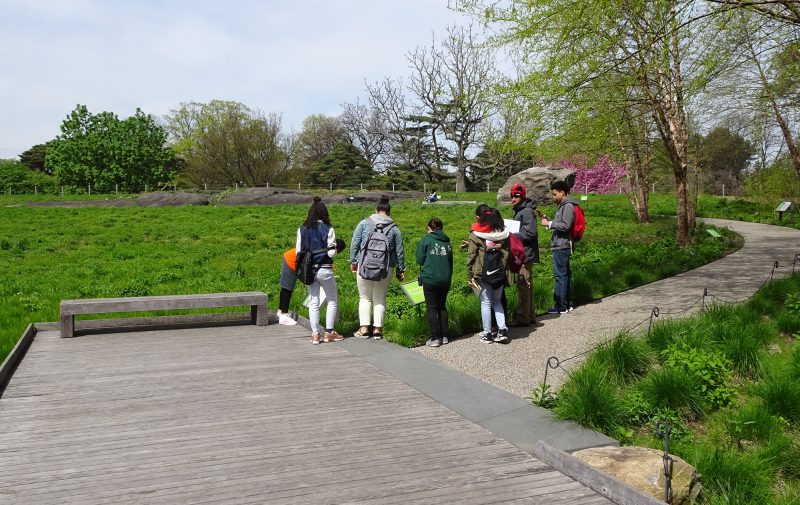 In preparation for using iNaturalist, students first became human naturalists. From collecting unusual objects on the ground to creating their own taxonomic keys, to using field guides to identify native trees and migrating birds in the 50-Acre Thain Family Forest and Mitsubishi Wetland Trail, students engaged in natural history. They visited the William and Lynda Steere Herbarium, where Nicole Tarnowsky, Assistant Director of the Herbarium, showed them centuries-old plant specimens from the more than seven million housed there, including ones collected by Lewis and Clark on their expedition along the Missouri River in Montana. They studied the more than 400 species and cultivars of native plants ecologically important to the northeast of North America at the Native Plant Garden with Michael Hagen, Curator of the Native Plant Garden, and then extracted seeds from native flower heads to create and spread their own seed balls. After all their work in the field, students familiarized themselves with navigating the iNaturalist app in the classroom before heading outside the Garden's gate to document Bronx sidewalk life with a simple "Observe, Snap, and Save" technique, recording as many observations as they could within a given timeframe.
While John Torrey may not have been a "Citizen Scientist," he laid the groundwork for observing and documenting biodiversity across the world for this generation of young people who are equipped with both observational and pioneering technological tools, as well a sense of stewardship over the environment to participate in conservation causes during their free time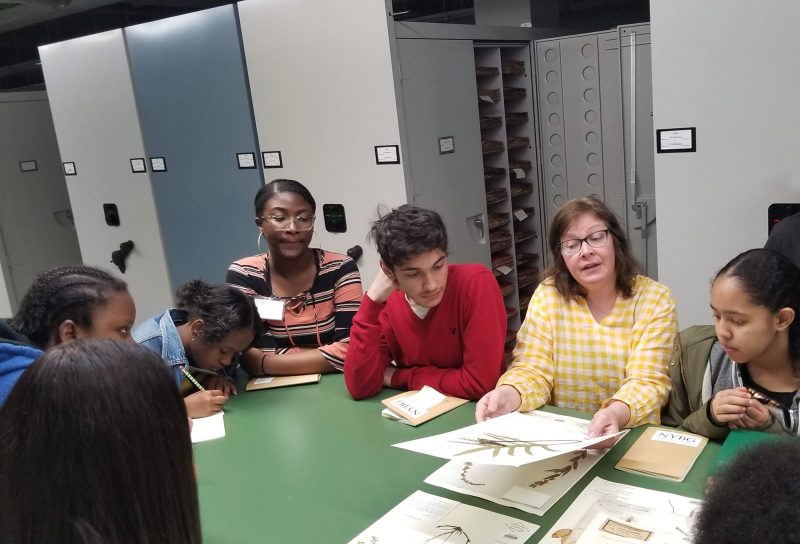 GEAR UP, administered by The Bronx Institute at Lehman College, is an initiative designed to prepare students from underserved communities to enter and succeed in college. One of its fundamental tenets to college and career readiness is the importance of students' first-hand exposure to varieties of career paths. To that end, for the past decade GreenSchool has designed learning experiences for their students beginning in middle school through 12th grade, that exemplify the Garden's work in plant research and conservation, horticulture, and education, and provide opportunities for students to learn first-hand from Garden professionals in each field.
Coordination for the 2018–2019 partnership was executed by Jade Johnson. Jade is a recent graduate of SUNY College of Environmental Sciences and Forestry (ESF), with an Environmental Interpretation Masters in Science.