The Adventures of Alexander von Humboldt at NYBG
Posted in Humanities Institute on May 6 2019, by Samantha D'Acunto
Samantha D'Acunto is the Reference Librarian at The New York Botanical Garden's LuEsther T. Mertz Library.
---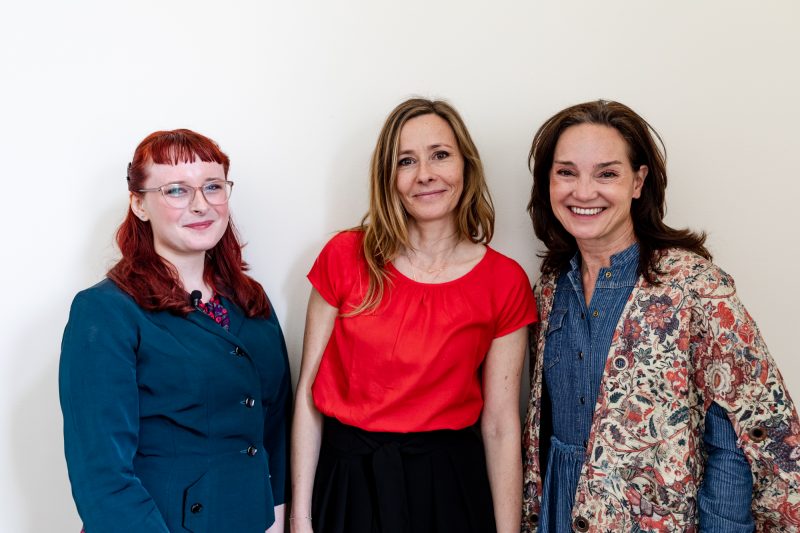 On Friday, April 19, 2019, the Humanities Institute and NYBG's Adult Education department welcomed a large crowd to the celebration of the 250th Anniversary of Alexander von Humboldt with bestselling author Andrea Wulf. Her last book, The Invention of Nature, won many literary awards and was on The New York Times' Top Ten Books list. Her new graphic novel, The Adventures of Alexander von Humboldt, highlights the five-year expedition Alexander von Humboldt undertook in South America. Wulf collaborated with illustrator Lillian Melcher to capture the words and images of Humboldt's personal diary and sketches which detailed his experience of the journey.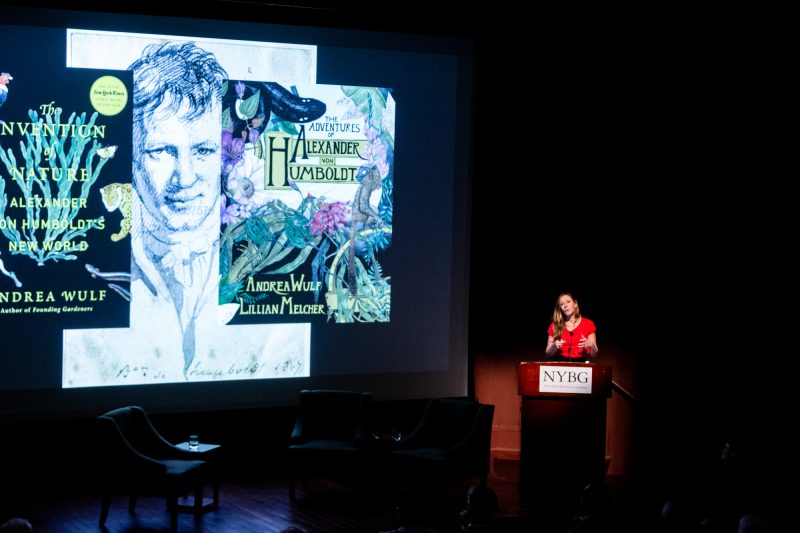 A warm welcome from the Garden's CEO and President, Carrie Rebora Barratt, kindly reminded the audience that "Before Muir, even before Darwin…there was Alexander von Humboldt, a brilliant scientist/explorer who shaped our modern understanding of Nature…the great, largely forgotten father of environmentalism." She then went on to praise Wulf and Melcher for their remarkable ability to bring the "South American adventures of Humboldt so vividly to life."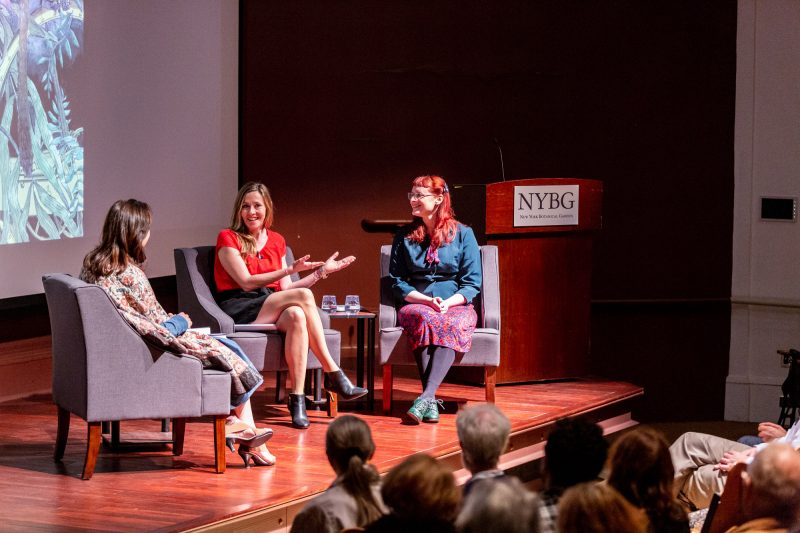 Wulf began by recounting her discovery of Humboldt's personal diary. Her fascination with it ignited a need to share it with others, and since her last book, The Invention of Nature, was already completed, she embarked on this exciting new project combining art and science. Wulf showed the short animated book trailer, introducing her new graphic novel, The Adventures of Alexander von Humboldt. Humboldt's diary revealed his predictions and concerns with human-induced climate change. It had constructed poetic narratives about scientific observation, and offered doodles, graphs, and drawings illustrating his South American expedition. Wulf revealed that the style in which Humboldt's personal diary presented itself was what inspired her to make it into a graphic novel. To capture the style and depth of the diary, Wulf invited talented illustrator Lillian Melcher to the project.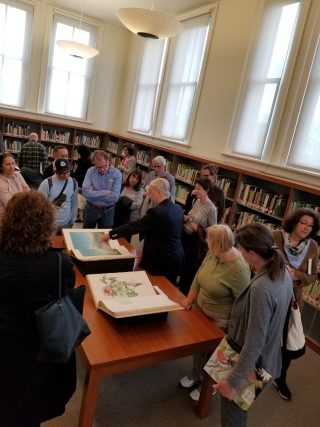 Lillian Melcher took the stage to share her vision and process for the project. Her research of historic 19th-century comics and Humboldt's original drawings inspired and informed her stylistic choices. Melcher's thoughtful approach in capturing the look and feel of Humboldt's experience included attention to color palettes and shapes, historical accuracy, and mixed media collage using plant material from The New York Botanical Garden. Each page offers readers a unique visual experience that emulates the feel of Humboldt's personal account of his journey through South America.
Following, was a lively conversation with Andrea Wulf and Lillian Melcher facilitated by Carrie Rebora Barratt. The audience was given the opportunity to ask questions and remark on Humboldt's life, works, and his stardom in the new graphic novel. The NYBG Shop sold all copies of The Adventures of Alexander von Humboldt while Wulf and Melcher were on standby for signings. Afterwards, the audience visited the LuEsther T. Mertz Library to view a selection of Humboldt's original publications and herbarium specimens.