Living Collections
Posted in Garden News on May 8 2019, by Plant Talk
By Kristine Paulus, Plant Records Manager; Deanna F. Curtis, Senior Curator of Woody Plants and Landscape Project Manager; and Todd Forrest, Arthur Ross Vice President for Horticulture and Living Collections.
---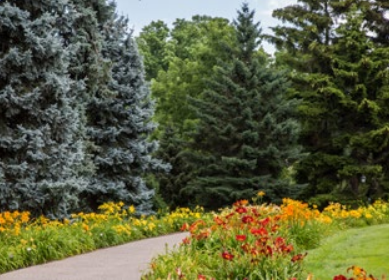 NYBG's 250-acre National Historic Landmark landscape and two glasshouses feature 50 gardens and collections that comprise more than one million plants. Well-maintained and displayed collections show the diversity of the plant kingdom and enrich the experience of all who see them. Beautiful displays make visitors stop and examine plants more closely and learn more from their experience, thus fulfilling NYBG's mission. More than 90% of the plant collections are accessible to visitors every day the Garden is open. All of the plants in the collections are available for research purposes as needed by members of NYBG's Science Division staff.
Collections are displayed in many ways. They may be incorporated into the landscape, as are the conifers in the Benenson Ornamental Conifers, featured within dedicated gardens, such as the Peggy Rockefeller Rose Garden, presented in organized beds, such as Daylily/Daffodil Walk, or combined in educationally themed and interpreted displays, as in the Upland Tropical Rain Forest Gallery of the Haupt Conservatory. Additionally, collections are displayed in themed exhibitions, such as the annual Orchid Show.

Ongoing evaluation of the collections to ensure that they serve NYBG's mission is the responsibility of the Horticulture Division's management and curatorial staff and, in the case of research collections, the Science Division's research staff. Evaluation ranges in depth and breadth from daily inspections of plants in the collections by Horticulture staff, to systematic evaluation of specific collections performed in conjunction with specialists in certain plant groups, to comprehensive, NYBG-wide evaluations such as the Collections Master Plan.
The Plant Records database is available online through Garden Navigator, which displays species information and photographs for taxa currently in the collections as well as those no longer in the collections or displayed in exhibitions and seasonal plantings. Locations and map pins are given for all living plants in publicly accessible areas. Flowering and fruiting phenology data are also accessible in Garden Navigator.
Historical records, including the earliest 19th-century accession logs, are available by appointment through the Archives of the LuEsther T. Mertz Library. The Plant Records Office also works closely with the Library's Plant Information Office to answer questions about plants in general and the living collections in particular. Plant Records and Plant Information are available by telephone and email, readily providing contact information on NYBG's website.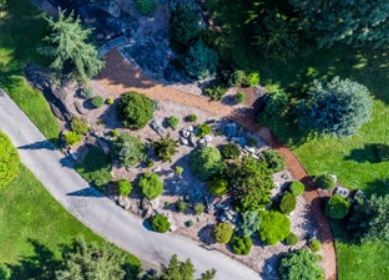 As a museum of plants, NYBG relies on accurate record-keeping for its living collections. The collections are only as valuable as their documentation. The collections and corresponding records serve as an essential resource for education and research for scientists, students, home gardeners, and more. Records help assess collections and inform curatorial decisions. They provide an information base for the understanding of the Garden's mission. The Plant Records Office documents, archives, and shares important information about the collections.
While collection records are maintained by the Plant Records Office, collections documentation is a responsibility shared by all Horticulture Division staff. Managers, curators, and gardening staff must keep track of collections in their care and report changes to the Plant Records Office. Current and archival records are a core component of the institutional history and facilitate access to the collections. Accurate and up-to-date records are necessary for generating collections reports and statistics.
Plants or groups of plants coming into NYBG from the same source at the same time receive a unique accession number allowing them to be identified and tracked throughout their history at NYBG. When plants die or are removed from the collection for whatever reason and deaccessioned, the records remain. This system was instituted in 1896 and continues to the present day. Until 1994, records were kept in accession books, on index cards, and on hand-drawn maps. Historic paper records, which date back to 1899, are housed in NYBG's Library Archives and are being retroactively cataloged in the Plant Records database. In 1994 NYBG began documenting its living collections electronically in a collections management database and GIS software. Other collections data recorded in the database may include plant health information, notes of work performed, phenology observations, measurements, location changes, propagation, nomenclatural changes, and distribution. The Plant Records Office also coordinates and organizes photography of the collections.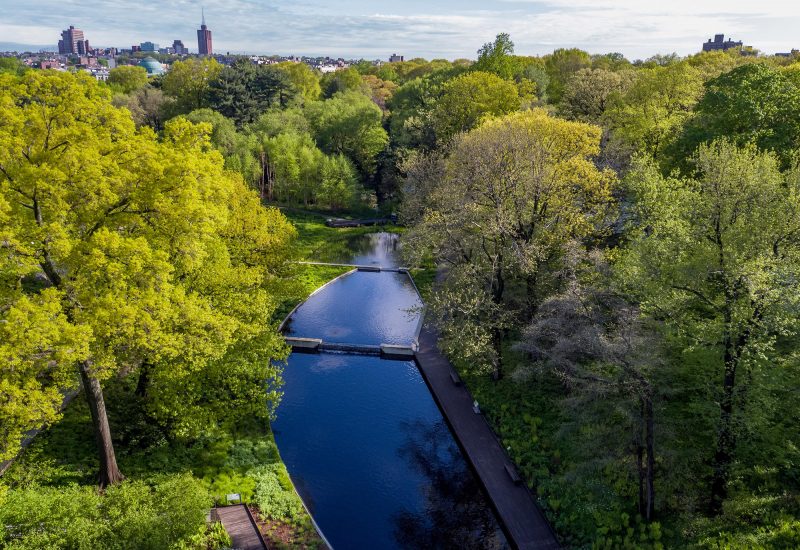 Digital records are backed up by NYBG's Information Technology office. Hard copies of all paperwork are kept in the Plant Records Office as backup until they are transferred to the Library Archives. Additionally, the Plant Records Office uploads accession records bi-annually to the Botanic Gardens Conservation International (BGCI) Plant Search database and Royal Botanic Garden Edinburgh's (RBGE) BG-Base Multisite. Phenology observations are entered in the National Phenology Network's Nature's Notebook platform.
This article originally appeared as part of the Spring-Summer 2019 issue of Garden News, NYBG's seasonal newsletter. For further reading, view the issue online and discover a sampling of stories about current programs and undertaking at the Garden.