LuEsther T. Mertz Library Collection: Bassett Maguire Archive
Posted in Garden News on May 28 2019, by Stephen Sinon
By Susan Fraser, Thomas J. Hubbard Vice President and Director, and Stephen Sinon, William B. O'Connor Curator of Special Collections, Research and Archives, LuEsther T. Mertz Library
---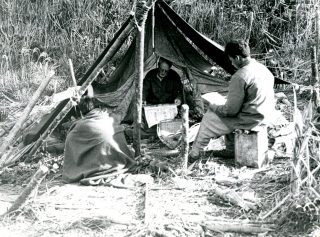 The Institutional Archives of The New York Botanical Garden preserves and documents the activities of the Garden as an important international cultural and research organization dedicated to the research, education and display of plants. From its inception in 1891 to the present day, the records of the organization have been gathered and organized and are often consulted for historical and scholarly research. These records are related to the general administration and activity of the Garden, its Directors and Presidents, Board of Trustees, Collections, Buildings, and Gardens. These materials document not only the scientific legacies of the Garden and its staff, but also the social interactions and professional achievements of NYBG researchers. The records of Bassett Maguire (1904–91) is one such collection of note.
In January 1943, Bassett Maguire visited NYBG, where he was to research the flora of Utah. By July of that year, he was listed as "curator" and subsequently served NYBG in many roles, including Head Curator, Nathaniel Lord Britton Distinguished Senior Curator and Director of Botany until his retirement in 1975. While at the Garden, his plant research began to shift from North America to tropical America. In 1944 he arranged an expedition to continue the Garden's work in the Guayana Highland. Later that same year he proceeded with an exploration of Tafelberg in central Surinam. He continued to lead expeditions to South America, particularly the Amazonas territory of Venezuela and what was then British Guiana. In 1948, accompanied by Louis Politi from NYBG's Horticultural staff and by his son, Bassett Maguire, Jr., Dr. Maguire led a major collecting expedition to the summit of Cerro Sipapo via Río Cuao and the upper Orinoco, enriching both the Garden's living and herbarium collections.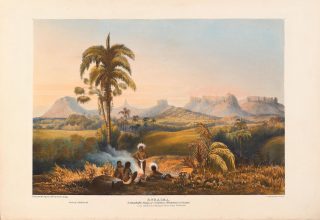 In 1953 Dr. Maguire was finishing up the exploration of the Amazonas, Venezuela, but extended his trip to retrace the travels of the pioneer Amazonian explorer, Richard Spruce. Traveling down the Río Negro, he came upon Cerro Cucuy, and climbed up the mountain to explore it as Spruce had done 100 years before him. Maguire later recounted the moment, "From these exposed slopes we saw again to the east and southeast, at a distance of perhaps 50 miles, the same bold outlines of sandstone escarpments. Clearly, our work in Amazonian Guayana was not yet done; still another expedition had to be undertaken!". The location of the unknown mountains on the Venezuelan-Brazilian border had international implications, so before exploration of what he came to name Cerro de la Neblina could be launched, a boundary commission was created to determine the division between the two countries. Dr. Maguire organized and participated in three subsequent trips to Neblina, one of the most botanically rich table mountains of the Guayana Highland. The discovery of a new mountain mass was the crowning achievement in Maguire's career of exploration. For his discovery, he was awarded the David Livingstone Centenary Medal by the American Geographical Society in 1965.
The Maguire Archive documents and elucidates the life and work of this renowned botanist whose career at The New York Botanical Garden spanned nearly 50 years (1943–91). The processed materials comprise more than 75 boxes organized by 18 discrete series or units that bring together and arrange archival records that share a relationship or common characteristics; for example, biography, expeditions, research are three of the Maguire series. The collection encompasses personal papers, manuscripts and typescripts, Garden and global correspondence, research materials, expedition reports, field journals, National Science Foundation (NSF) grants, clippings, scrapbooks, and awards and accolades, all of which offer insight into Dr. Maguire's ambition, accomplishments, and complexity.
While at the Garden, Dr. Maguire was largely responsible for securing many NSF grants, acquiring new herbarium cases, and renovating existing herbarium space. He was also involved in many professional scientific societies and organizations. He was the President and a founder of the Association of Tropical Biology (ATB), participated as a founder and councilor of the Organization for Tropical Studies (OTS), and served as President of the Torrey Botanical Club. He developed fruitful collaborations with other botanical gardens and conducted herbarium studies in the United Kingdom, Denmark, Sweden, Finland, and the USSR. His archive documents his work as a herbarium administrator as well as an intrepid explorer and includes research papers, correspondence and field notes. Print material is complemented with visual images, both moving and still. The Maguire Archive includes photographs, slides, movie film, and videos of his expeditions in South America as well as portraits and images of Dr. Maguire in his professional role and in personal views with his wife. Botanical art and illustrations, maps, reprints, and over 170 artifacts and personal items used in expeditions, such as Maguire's compass and altimeter as well as native artifacts, including a blowgun and darts, augment the archival record.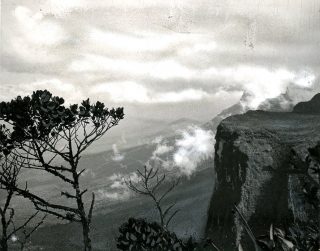 Brian M. Boom, Ph.D., Vice President for Conservation Strategy and Bassett Maguire Curator of Botany, who was Dr. Maguire's research assistant in the early 1980s, noted, "Bassett Maguire resolutely believed that exploration is the business of NYBG. For nearly half a century, he passionately engaged in this classic botanical enterprise, mounting dozens of plant collecting expeditions to the most remote and highly biodiverse wilderness regions of South America. His methods were strategic, his energies limitless, and his results extraordinary, all setting a very high bar for success among his successors. A testimonial to Bassett's botanical "business" acumen is that an impressive six genera and 119 species of organisms described as new to science have so far been named in his honor. The extensive, meticulously curated Maguire Archive in the LuEsther T. Mertz Library holds the fascinating and multifaceted tale of one of NYBG's most legendary scientists."
This article originally appeared as part of the Spring-Summer 2019 issue of Garden News, NYBG's seasonal newsletter. For further reading, view the issue online and discover a sampling of stories about current programs and undertaking at the Garden.