Join Us for the First Bronx Food and Farm Tour of 2019
Posted in Programs and Events on May 10 2019, by Ursula Chanse
Ursula Chanse is the Director of Bronx Green-Up and Community Horticulture at The New York Botanical Garden.
---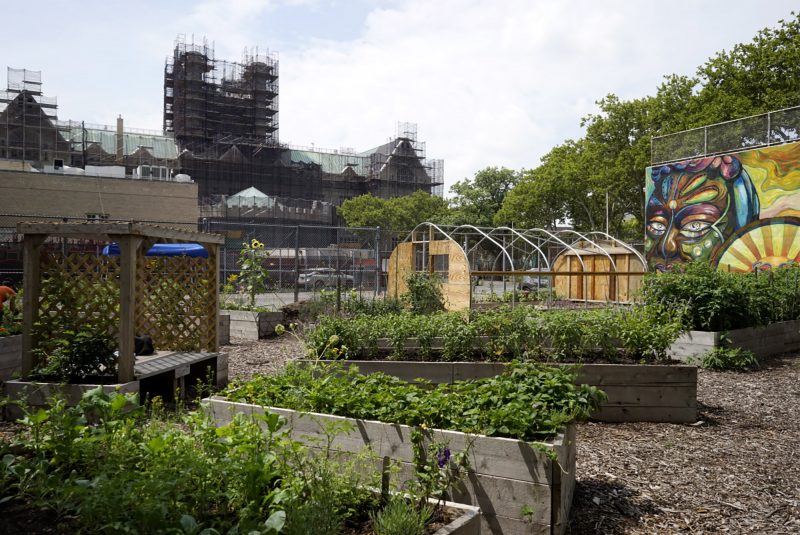 Join us for the first tour of the 2019 Bronx Food and Farm Tour Series!
This Saturday, May 11, NYBG's Bronx Green-Up is excited to present the School Gardens and Farms Bus Tour, highlighting three unique Bronx school gardens and farms that demonstrate a bounty of learning and growing.

First stop will be DeWitt Clinton High School, which hosts Meg's Garden, the James Baldwin Outdoor Learning Center, and Teens for Food Justice's new hydroponics farm lab. Next we'll see all the gardening and art that can be done in a smaller space at the PS 32 Belmont Children's Garden. Finally, we'll share a tasty lunch at the Morris Campus Educational Farm, which features a hoop house, production beds, culinary and mindfulness areas, and a stunning mural.
Tour Details:
Meet the tour guide at 10:45 a.m. at the entrance of DeWitt Clinton High School at 100 West Mosholu Parkway South. Tour leaves promptly at 11:15 a.m. Returns at 2:30 p.m.
Tour Guide: Melissa Cebollero, Office of Government & Community Relations, Montefiore Health System.
Tour includes a delicious, healthy lunch catered by Bronx-based B. Blossom.
Tickets are $20 by cash or check made payable to The New York Botanical Garden.
To reserve your space, register here or call 718.817.8026.
All proceeds go to the participating community gardens and urban farms. See our other tours in the Bronx Food and Farm Tour Series!
The Bronx Food and Farm Tours are sponsored by Montefiore and in partnership with Mary Mitchell Family and Youth Center, La Familia Verde, and NYC Parks GreenThumb.