#plantlove: Kadeesha Williams, Community Horticulturist & Urban Agriculturist with Bronx Green-Up
Posted in People on May 14 2019, by Matt Newman
As part of #plantlove at NYBG, we're talking with people from all over the Garden about what inspires their passion for plants. Today, meet Kadeesha Williams, Community Horticulturist and Urban Agriculturist with Bronx Green-Up at NYBG.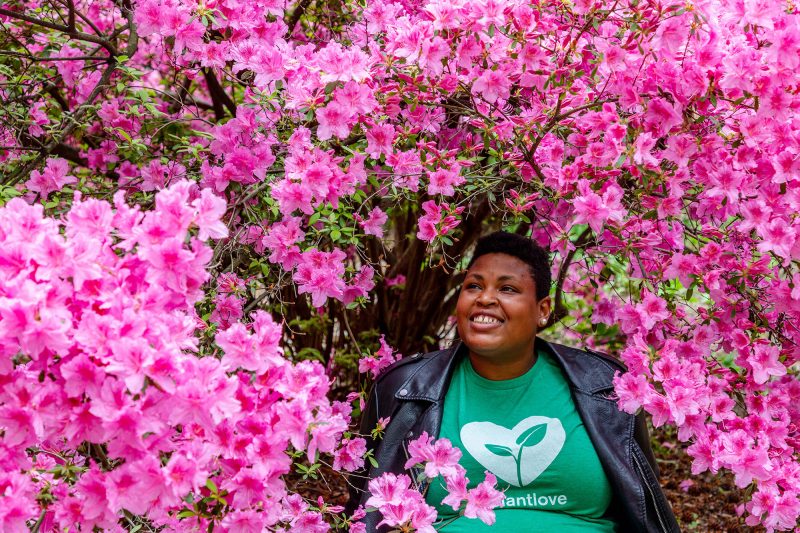 I'm lucky to have grown up surrounded by plants. My parents come from farming backgrounds in South Carolina, so it was natural to raise their own food when they moved to NYC. I often think of my family's community garden, Taqwa Community Farm here in the Bronx, as the place where I first had my experiences with plants. It isn't, though.
When I was three or four, my father and grandfather kept a garden in our backyard, and I remember how lush it always was. There was a rose of Sharon bush that grew to the size of a small tree, two Persian silk trees, and forsythia along the fence. In the middle they grew tomatoes, cucumbers, collard greens, and cabbage. I felt tiny walking through that garden, like a fairy princess in a magical forest. I dream about that place often, even as an adult, because of how it shaped the world I desire. I don't think I've ever shaken that dream, and I want to share the experience with everyone.
Being in a garden should remind us of how small we are, and that is a beautiful thing.