The Archival Process
Posted in Garden News on June 13 2019, by Plant Talk
Jane Dorfman is a former Mertz Library Reference Librarian & Exhibitions Coordinator and current NYBG Volunteer.
---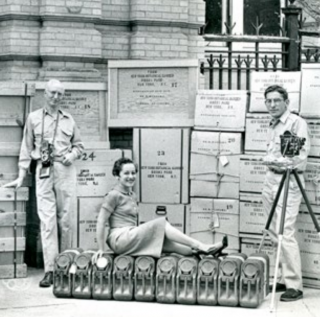 After Bassett Maguire's death, Celia Maguire worked tirelessly to ensure her husband's scientific legacy. She did so by organizing the vast amount of his personal and professional papers and material and, with the assistance and support of the Mertz Library, made the Bassett Maguire Archive a reality.
When Stephen Sinon, William B. O'Connor Curator of Special Collections, Research and Archives, invited me to work on the Bassett Maguire Archive project, it never occurred to me that I would spend nearly 1,000 hours over four years sifting through more than 100 boxes and several carts filled with personal and professional papers, artifacts, slides, photographs, maps, and masks, plus worldwide correspondence from prominent scientists, as well as from his two wives and mother. At times it was a bit overwhelming and I often felt, with this mountain of boxes in front of me, that Dr. Maguire's "Lost World" of Cerro de la Neblina, was my lost world too.

Much of the boxed material had been organized; nevertheless I reviewed everything, and, in so doing, must have touched every page and every piece of correspondence. Under Stephen's guidance, I removed published papers and duplicates of material available in other Records of the Herbarium. Mrs. Maguire did a yeoman's job of organizing her husband's work and created a splendid finding guide, but alas, some items listed were not found, while some folders were filed but not listed. Unprocessed material brought from Mrs. Maguire apartment after her death in 2014 needed to be incorporated, and her original order of materials required some adjustment. A revised finding guide was created.
While some may regard archival work as dull and dusty, it is actually a very close and personal encounter with the individual who created the records, albeit a one-sided experience. Never having met Dr. Maguire, nor his wife, Celia, I know them in a profound way as I reviewed what they left behind. Some surprises were heartfelt: the correspondence between the couple; and some not so much: his competition for plant collections, his sense of hegemony re: the Guayana Highland. But throughout it all, I cannot but be in awe of Bassett Maguire. He, along with many prominent botanists, defined the Guayana Highland and put it on the map. His adventurous spirit, curiosity, and passion for his work is inspiring and his prodigious output and outreach to colleagues and students across the globe enhanced his legacy. It was a privilege to highlight his remarkable life and work by making these primary sources accessible to future researchers.
This article originally appeared as part of the Spring-Summer 2019 issue of Garden News, NYBG's seasonal newsletter. For further reading, view the issue online and discover a sampling of stories about current programs and undertaking at the Garden.