Elizabeth Bishop in Brazil
Posted in Adult Education on July 16 2019, by Plant Talk
Peter Szilagyi is a Junior Mellon Fellow at the Humanities Institute, NYBG, Summer 2019.
---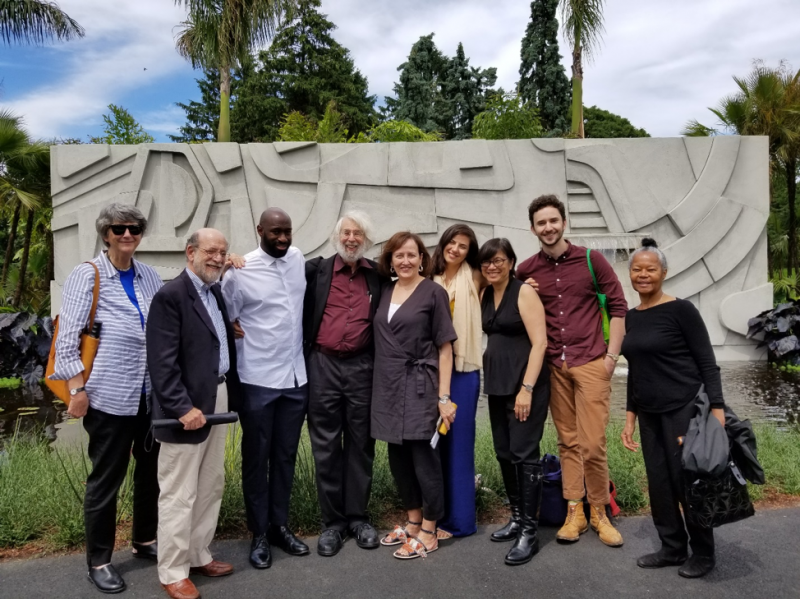 On Friday, June 21, 2019, The New York Botanical Garden partnered with the Poetry Society of America to bring a daylong celebration of the life and work of Elizabeth Bishop to the Bronx. Many of Bishop's original poems and translations of Brazilian poets can be read on billboards set up throughout the Garden right now as complements to the current exhibit, Brazilian Modern: The Living Art of Roberto Burle Marx. Bishop spent what she regarded as the happiest years of her life in Brazil, where she came to know Burle Marx through her partner Lota de Macedo Soares, who, like Burle Marx, was a prominent Brazilian architect and landscape architect in the second half of the 20th century.

The day began with a series of talks by leading scholars of Bishop's work and Brazilian art of the 20th century. As the audience took their seats in Ross Hall, the sound of the rain outside, the subject of some of Bishop's most striking poems from her years in Brazil, transported all present from the Garden to Samambaia, the modernist house and grounds designed by Soares and Burle Marx where Bishop lived with the former.
Carrie Rebora Barratt, CEO and William C. Steere President of NYBG, opened the event, commenting on the warmth of the audience and taking care to give much-deserved recognition to Alice Quinn, Director of the Poetry Society of America, in anticipation of her imminent retirement. Through Quinn's hard work and love for poetry, the many wonderful collaborations between the Garden and PSA have been made possible.
Actress Maria Tucci followed Barratt to give a reading of Bishop's work before the talks. She began with "Memories of Uncle Neddy," a prose narrative from Bishop's Brazil years in which she recounts receiving old photos, including one of her Uncle Neddy as a much younger man. Like the morning of the event, the story begins with rain: "It is raining in Rio de Janeiro, raining, raining, raining." Tucci's reading, emotive yet reined in—much like Bishop's writing itself—brought a hush to Ross Hall.
Each speaker to follow brought facets of Bishop's life in Brazil to light, providing deeper and wider context with which those in the audience could then enjoy Brazilian Modern. Lloyd Schwarz, University of Massachusetts Professor of English, delivered a compelling talk about his trip to Brazil in the '90s to lecture on Bishop, whose work had just been translated into Portuguese about a decade after her death. Pointing out that Bishop's U.S.-published material did not, during her lifetime, include many of the poems she wrote in Brazil, he recounted encountering some of these on his trip, a selection of which he read.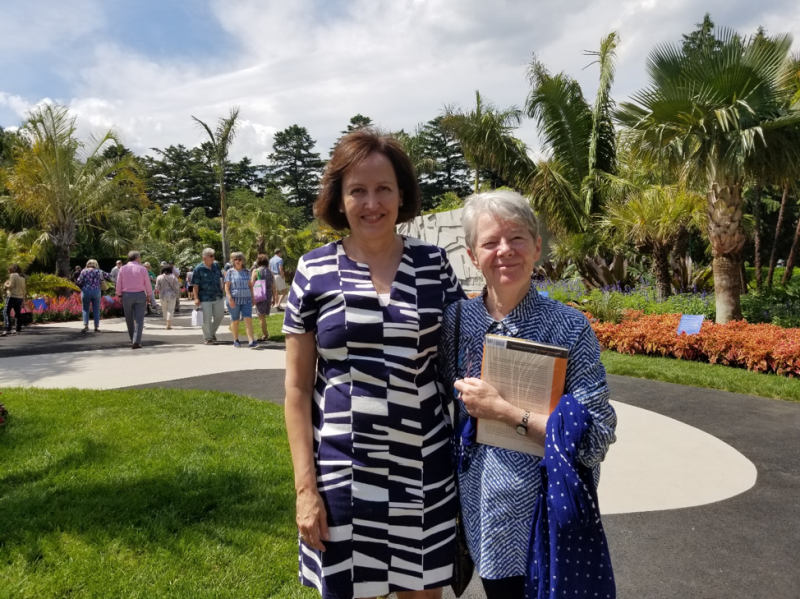 Barbara Page, long-time Professor of English at Vassar College, now retired, spoke of Flores Raras e Banalíssimas (Rare and Commonplace Flowers), a bestseller in Brazil written by Carmen L. Oliveira. The book details the relationship of Bishop and Soares and was important in shaping Brazilian impressions of Bishop, who was often blamed by friends of Soares for her death by suicide. Indeed, Brazilian receptions of Bishop's Brazil writing and her time in the country have long been ambivalent, often citing the American poet's incomplete understanding of Brazilian politics and questioning the faithfulness of her translations from Portuguese (as well as from the Spanish of, for example, Octavio Paz) to the cultural context(s) out of which they grew. Page's talk, then, provided key insights into the analogous translational act involved in bringing Burle Marx to the Garden, making implicit suggestions about the necessity of the greater context provided by events like this for understanding Burle Marx's work appropriately.
Antonia Sergio Bessa, Director of Curatorial Programs at the Bronx Museum, provided exactly this context in his talk. Bessa is not just a perspicacious curator but is also an expert on 20th-century Brazilian poetry, especially concrete poetry. Bessa gave a rapid but thoughtful overview of some of the major strands of Brazilian poetry from the late 19th century through the time that Bishop and Burle Marx were working as contemporaries. These poems, Bessa argued, would have influenced both artists, either directly or indirectly by way of their wider influence on the artistic circles in which they moved. Bessa concluded his talk by playing wonderful recordings of concrete poet Augusto de Campos reading his work.
Katrina Dodson, who teaches translation at Columbia University, was uniquely able to further the conversation about the politics of Bishop's translations, having herself worked carefully to translate Clarice Lispector, whom Bishop also translated. In fact, her Ph.D. dissertation written at the University of California Berkeley is on Bishop in Brazil. Dodson highlighted the early Brazil poems in Questions of Travel for the ambivalence they themselves show about the ethics of Bishop's gaze. Dodson is also ongoingly interested in the effect of the varied landscapes of Brazil on Bishop's conception of nature, a category of influence much-discussed in regard to Burle Marx.
Christopher Schmidt delivered the morning's final talk, discussing the possibility of direct influence of Burle Marx on Bishop. Burle Marx and Soares collaborated on multiple occasions before a falling out that ended their work together. During these collaborations, however, Bishop would have been exposed to the art and personality of Burle Marx. Schmidt notes Bishop's reservedness about her own queerness in her poetry, but suggests that the flamboyance and camp that Burle Marx brought to his work brought Bishop to view him as a companion in artistic queerness. Bishop's poetry took an unprecedentedly personal turn while in Brazil, and Schmidt perhaps implies, then, that Burle Marx's influence was one factor in this development.
To conclude the morning, Maria Tucci returned to the stage to read Bishop's poems "The Armadillo" and "Song for the Rainy Season." "The Armadillo," written for Bishop's poet-friend Robert Lowell, served as a particularly appropriate conclusion, as Lowell's request that Bishop return to the United States to fill the position that he was about to vacate at Harvard brought Bishop to leave Brazil for good. With her commitment to Lowell, then, the story of Elizabeth Bishop in Brazil finds its end.