Roberto Burle Marx—A Total Work of Art
Posted in Humanities Institute on July 11 2019, by Vanessa Sellers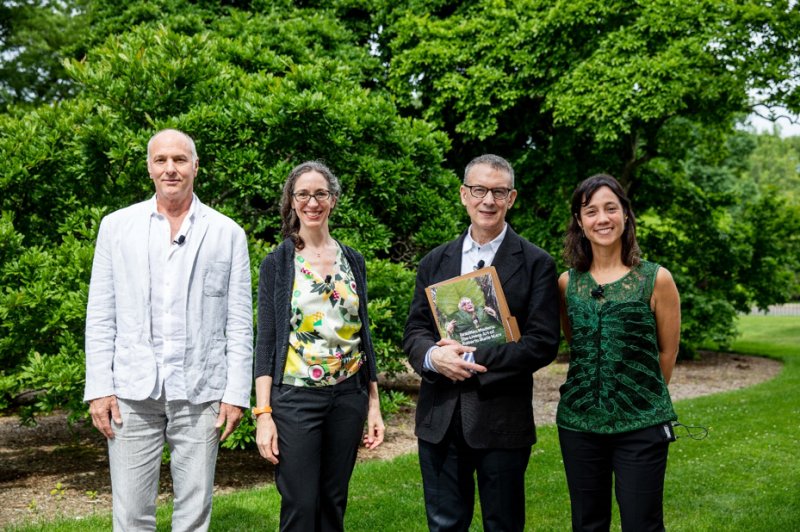 On Friday, June 7, 2019, the symposium Roberto Burle Marx—A Total Work of Art opened the Garden-wide exhibit Brazilian Modern: The Living Art of Roberto Burle Marx. Marking the Seventh Annual Humanities Symposium, the event celebrated Burle Marx's life and work as an innovative artist, landscape architect, and conservationist, all in one.

A festive and anticipatory atmosphere welcomed the speakers into Ross Hall: Raymond Jungles, FASLA Founder and Principal of Raymond Jungles, Inc.; Catherine Seavitt Nordenson, ASLA, AIA Associate Professor of Landscape Architecture at CUNY's City College; Principal, Catherine Seavitt Studio; Isabela Ono, Executive Director, Burle Marx Institute, Rio de Janeiro, Brazil; and moderator Edward J. Sullivan, Ph.D., Exhibition Curator, Professor of the History of Art and Deputy Director, Institute of Fine Arts, New York University.
Carrie Rebora Barratt, Chief Executive Officer and William C. Steere Sr. President of NYBG, enthusiastically greeted the audience, stating that this was The New York Botanical Garden's largest botanical exhibition ever and that everyone, certainly at this Institution, would agree with Burle Marx's famous saying: "Gardens are works of art, and have to be treated as such." Following applause, Carrie said: "Today we celebrate this legendary figure. You will feel his artistic energy and love of plants in our Garden-wide exhibition of lush gardens; paintings, drawings, and textiles; and the sights and sounds of Brazil that inspired his life and work." Carrie also explained how important Burle Marx's advocacy for the preservation of Brazil's native ecosystems was, and how this long-standing research impacted NYBG's scientists in the region. After thanking many important donors for their partnership and support for the exhibition, Carrie went on to express her gratefulness for The Andrew W. Mellon Foundation, supporting NYBG's Humanities Institute, stating that this symposium offered a perfect interdisciplinary platform for the Garden to explore the essential connections among plants, people, and the environment.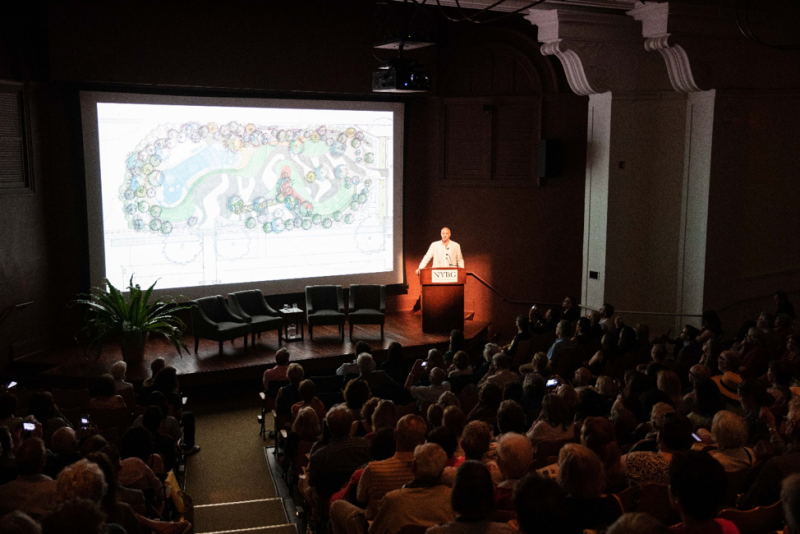 Edward Sullivan, moderator of the morning's proceedings and guest curator of the exhibition, then took the stage to introduce the speakers in further detail, expressing delight in their collegial collaborations which resulted in the beautiful exhibition catalogue Brazilian Modern: The Living Art of Roberto Burle Marx. His presentation explored how Burle Marx's collaborations with prominent artists and architects ushered in a new era of modernism in Brazil and especially in Brazilian landscape design. Sullivan went on to recount his own developing admiration for Burle Marx as a living Gesamtkunstwerk, as he observed his multifaceted artistic accomplishments in earlier exhibitions held at the Museum of Modern Art (1991) and The Jewish Museum in New York (2016) as well as through his own visits to the Sítio, Burle Marx's home and living laboratory outside Rio de Janeiro.
Well-known landscape architect Raymond Jungles—designer of the living exhibition in the style of Burle Marx currently on view at NYBG—then stepped up to the podium to engage the audience with stories about his years in Roberto Burle Marx's entourage at the Sítio, his home and studio outside Rio de Janeiro. Recounting their first meeting in the early 1980s in Miami, Jungles explained their growing friendship, how generous Burle Marx was, and how this former creative mentor continues to inspire his landscape aesthetics and novel horticultural choices today.
After Jungles' touching personal account, Catherine Seavitt Nordenson, in her talk Forest Politics: Positioning the Amazon, highlighted yet another aspect of Burle Marx's important life activities: his (at times revolutionary) role as ecological activist. While continuing work on landscape, painting, and other commissions for a large clientele, Burle Marx passionately participated in governmental projects, serving on environmental committees during Brazil's military dictatorship. "He was very outspoken," Nordenson explained, "raising a [visionary] voice of caution and positioning himself against the regime's ongoing multi-national developmentalist approach for the Amazon rainforest." Burle Marx landmark "depositions" presented to the Brazilian government criticized international exploitation of the rainforest and stressed the state's duty to protect the Brazilian landscape as a vital cultural heritage. Posting the key question "Who owns the Amazon anyway?," Nordenson showed the destructive impact of highway construction across Brazil in the 1970s, relating it to the dismantling of ecological laws today.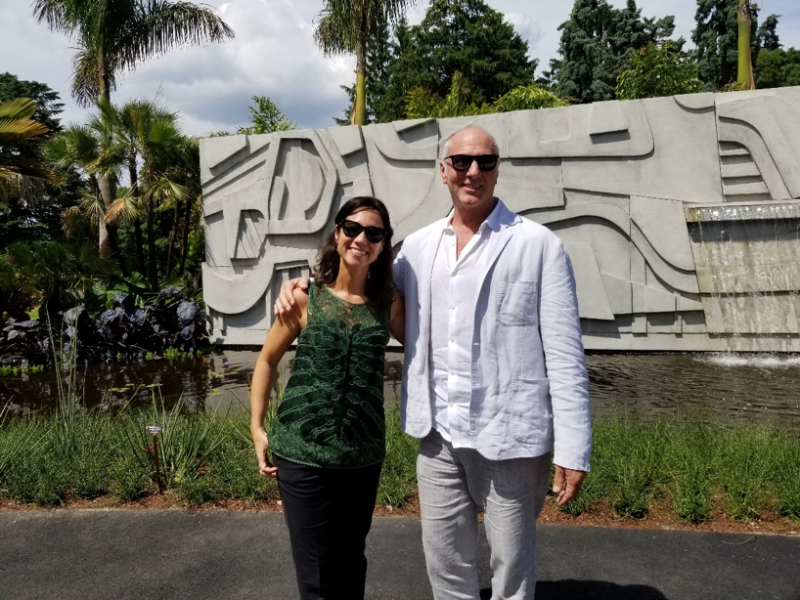 Finally, in The Ongoing Legacy of Roberto Burle Marx in Brazil, Isabela Ono, Executive Director of the Burle Marx Institute, and daughter of Burle Marx's closest collaborator and creative heir, Haruyoshi Ono, shared some personal memories of growing up in Burle Marx's orbit. She told the audience what it meant to return to Burle Marx's professional studio as a trained landscape architect; what it means today to oversee the implementation and maintenance of gardens and the general management of the company; and how the newly-formed Institute seeks to maintain Burle Marx's legacy and support future research.
Closing the morning's program, Edward Sullivan exclaimed: "What has been the take away? The exhibition and this morning's symposium evoke Burle Marx in all his preoccupations and desires. I am sure he is floating around here somewhere in the hall!"