#plantlove: Livia Martinez, Undergraduate Science Intern in the NYBG Plant Research Laboratory
Posted inPeople onJuly 17 2019, by Matt Newman
As part of #plantlove at NYBG, we're talking with people from all over the Garden about what inspires their passion for plants. Today, meet Livia Martinez, Undergraduate Science Intern in the NYBG Plant Research Laboratory.
---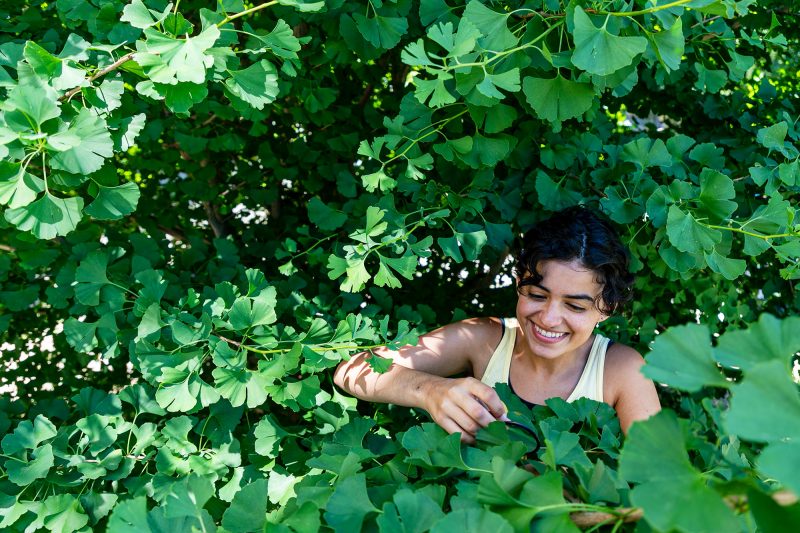 Where did you grow up, and did that have an impact on your decision to devote your life to plants?
I grew up in South Florida, which I would say had a pretty big impact on my interest in plants. The flora of Florida and the Caribbean are truly unparalleled, and growing up around mangrove forests and cycads and palm trees created a subconscious love for plants that I did not grow to appreciate until I got to high school.

Is there a specific moment when you knew that you had made the right choice?
I'm halfway through my undergraduate degree now, so I feel like I'm still figuring a lot of big life decisions out. But botanical research is one of the clearest paths I have for myself, even if I still feel like I haven't had that bright lightbulb moment of clarity that shows me exactly where I want to go within botany. It has been more a consistent feeling of happiness and curiosity that reassures me that what I am doing feels right, and feels like something that I want to continue to pursue for graduate school.
How did you become involved in your area of research?
In 9th grade, I went on an immersive science field trip to my local botanical garden, and it really changed the way I viewed nature and plants. After that day not only did I have a greater appreciation for plants, but I also had this desire to understand them and all of the mysteries that make them such a special part of the tree of life.
Tell us a little bit about your background and the path that brought you to NYBG.
I study at Barnard, so when I was looking for summer research during my first year of college, I reached out to many botanical researchers around the city with the help of Barnard's botany professor, Dr. Hillary Callahan, who helped guide my search. My current mentor here at the garden, Dr. Dennis Stevenson, did his post-doc at the same botanical garden that I interned at as a high schooler, so when I was reaching out to different researchers, he was very willing to take me on as an intern; I was really excited to be working at the world-renowned New York Botanical Garden! Now I've been working at the plant research lab for over a year, and it's a great fit for me; I love my job and my coworkers and couldn't be more grateful for all the opportunities I've received in my time here.
Is there a person or scientist whom influenced you the most?
My high school botany teacher played a big role in nurturing my love for and interest in plants at an early age. The many days that I would spend watering the orchids in the botany lab or the time I would spend teaching visiting students about the plants we were working with really has had an impact on my sustained love for the field. He truly solidified the idea that scientific research can be done by anybody regardless of background or age, and that it was something that I could do and should do if it felt like the right fit for me! Three years later, I still feel like it is, and hopefully I will be able to continue doing the botanical research that holds such a special place in my life and interests.
What do you love most about your day to day?
The best part is the small moments when you can see the progress you've made. Whether I'm doing structural botany and I notice that my slides have stained clearly, or I've finished a DNA extraction and the analysis tells me I have good DNA! Research can be a long process, and it can be easy to get lost in the routine, but the small moments of victory really make it worth all the work.
What is your favorite plant at NYBG?
Although this may seem like an obvious answer, I would probably have to say that Ginkgoes are my favorite plants here at NYBG. Since a lot of my research has centered around Ginkgoes, it's the species I always come back to. I always point them out to friends and family when I see them around the city. I have a deeper appreciation for them than I do for other plants—to me ginkgoes are like good friends more so than specimens I experiment on. I find that their presence is familiar and comforting, and as living fossils, the mysteries that they hold are astounding!