Your Last-Minute Labor Day Weekend Plans
Posted in Around the Garden on August 30 2019, by Matt Newman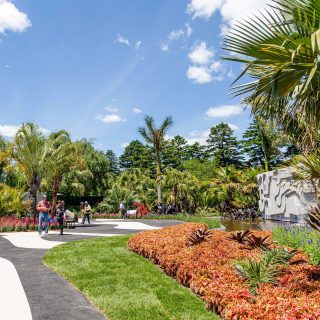 Summer may be winding down, but the Garden is still full of adventures and experiences that give you an opportunity to make the best of the warm weather this extended Labor Day Weekend. Take in the rich greenery of the season as you enjoy outdoor music and dance performances, tour our collections, dig into children's gardening activities, and so much more. And don't miss the final weeks of our largest botanical exhibition ever, Brazilian Modern: The Living Art of Roberto Burle Marx.
We're heading into September, the final month of Brazilian Modern before we segue into the crisp, colorful fall schedule, and our winding outdoor display isn't all you'll find here. Head into the Library to experience Burle Marx's boldly creative yet precise landscape designs; see his paintings, drawings, and textiles; and discover how his artistic process helped him define the forms and shapes of his gardens. Meanwhile, you'll find the music and dance of Brazil on offer each weekend, thanks to a rotating lineup of performers.
In the Edible Academy, kids can get hands-on with their food thanks to cooking demonstrations with seasonal produce from our vegetable gardens. And the Everett Children's Adventure Garden is just as much fun, offering drop-in nature exploration and planting activities that let them pot up their own philodendron to take home and care for.
Come tour the collections, revel in the summer sun, and enjoy the Garden during our holiday Monday opening this weekend!