#plantlove: Anais Garcia, Summer Youth Employment Program Intern with Bronx Green-Up and the NYC Compost Project
Posted inPeople onAugust 16 2019, by Matt Newman
As part of #plantlove at NYBG, we're talking with people from all over the Garden about what inspires their passion for plants. Today, meet Anais Garcia, a Summer Youth Employment Program Intern with Bronx Green-Up and the NYC Compost Project at The New York Botanical Garden.
---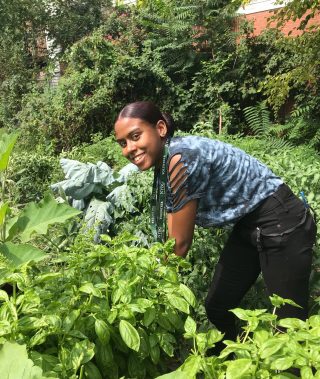 At a young age, I was exposed to plants while living with my grandmother. I may not have quite the green thumb she does, but I sure do like to have plants in my household—it just brings a calm aura to everything I do at home.
I'm glad I chose this internship because it opened my eyes to plants I wouldn't normally see in my neighborhood. I have experienced the beauty of various community gardens and how they thrive, and not only did I get hands-on experience in these gardens, but I also obtained new job skills throughout my time in the program. Some of these skills included managing inventory, using various software in support of our initiatives, tabling at events, and much more.
One of many experiences I really enjoyed was building a garden bed at Morris Campus Educational Farm. It was fun working alongside the students as a team to build the bed from scratch. By the end of the program, I felt proud that I had taken part in this activity because it's something most people my age haven't experienced.
From meeting new plants to meeting new people, working with these two amazing teams—Bronx Green-Up and NYC Compost Project—has left me in awe of everything they do in the City. When I first met everyone, I realized that they are not only a team, but a family, always ready to make a big impact on this world.