Beekeeping in the Edible Academy
Posted in Around the Garden on October 7 2019, by Ann Novak
Annie Novak is the Manager of the Edible Academy at The New York Botanical Garden.
---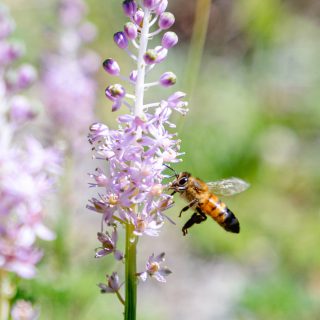 We introduced our first pair of beehives to the Ruth Rea Howell Family Garden in 2010, the year beekeeping was re-legalized in New York City. We sited the apiaries—Langstroth hives—atop the single flat rooftop on our garden site, a one-story brick and concrete building home to both gardening and office equipment fondly called "the tool shed." This gave our foraging worker bees zipping in and out of the hive a clear flight path above our vegetable plots, above and away from our visitors.
With the opening of the Edible Academy campus in the spring of 2018, our beehives moved to a much better location: the Kate Solomon Family Apiary, a flat, staff-accessible platform adjacent to the Gossett Overlook Pavilion. Now at eye-level (at a safe distance), visitors can observe the honeybees more readily. Unsurprisingly, a frequent query is what we do with their honey.

We harvest honey once or twice a season. Some is set aside for the bees to overwinter with, but there is typically enough to sample out during our programs. The flavor of honey depends on the nectar source, and so, in concordance with the bloom cycles of the flowers on The New York Botanical Garden campus, the honey changes flavor (and often color) between harvests. This year, it has a raspy, rich taste that is both sweet and complex—not unlike our bees.
Honeybees are fascinating, full of what E.B. White describes as "wild and glad elation." Indeed, of all agricultural animals, they remain the most wild. We know bees are pollinators. In our garden, they also walk around on our mulch, sip water from our hose bibs, investigate sugary stains near a smashed piece of fruit, flail after falling from the deep cup of a squash blossom, and socialize their way across the face of a sunflower alongside a half-dozen different species of insects. To me, our bees seem smart, collaborative, intentional, and more fun than frightening. In 10 years of working with at least a quarter million individual honeybees, I have been stung only a few dozen times.
Just as our vegetables engage our students with the plant kingdom, our honeybees promote observation and inquiry that extends to other insects in our garden. It is deeply satisfying when a visitor leaves the Edible Academy not only no longer afraid of honeybees but also able to differentiate them from the carpenter, bumble, and numerous sweat bees that frequent our flowers. Insect populations, nationally, are in trouble. Apis mellifera makes the honey we enjoy, but making better acquaintance with all the insects sharing our site is a necessary first step towards improving and enjoying the ecological partnership that helps all gardens grow.
This year's Honey & Harvest weekend at NYBG gives you the opportunity to see our bees hard at work and take part in garden activities in the Edible Academy, October 12–14. Don't miss tickets!