Posted in Around the Garden on October 7 2019, by Ann Novak
Annie Novak is the Manager of the Edible Academy at The New York Botanical Garden.
---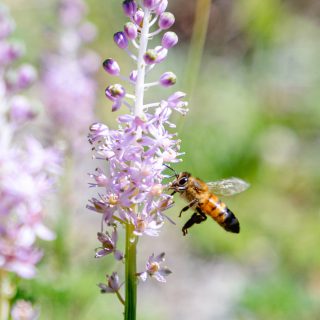 We introduced our first pair of beehives to the Ruth Rea Howell Family Garden in 2010, the year beekeeping was re-legalized in New York City. We sited the apiaries—Langstroth hives—atop the single flat rooftop on our garden site, a one-story brick and concrete building home to both gardening and office equipment fondly called "the tool shed." This gave our foraging worker bees zipping in and out of the hive a clear flight path above our vegetable plots, above and away from our visitors.
With the opening of the Edible Academy campus in the spring of 2018, our beehives moved to a much better location: the Kate Solomon Family Apiary, a flat, staff-accessible platform adjacent to the Gossett Overlook Pavilion. Now at eye-level (at a safe distance), visitors can observe the honeybees more readily. Unsurprisingly, a frequent query is what we do with their honey.