#plantlove: Dr. Rob Naczi, Curator of North American Botany
Posted in People on November 27 2019, by Matt Newman
As part of #plantlove at NYBG, we're talking with people from all over the Garden about what inspires their passion for plants. Today, meet Rob Naczi, Curator of North American Botany at The New York Botanical Garden.
---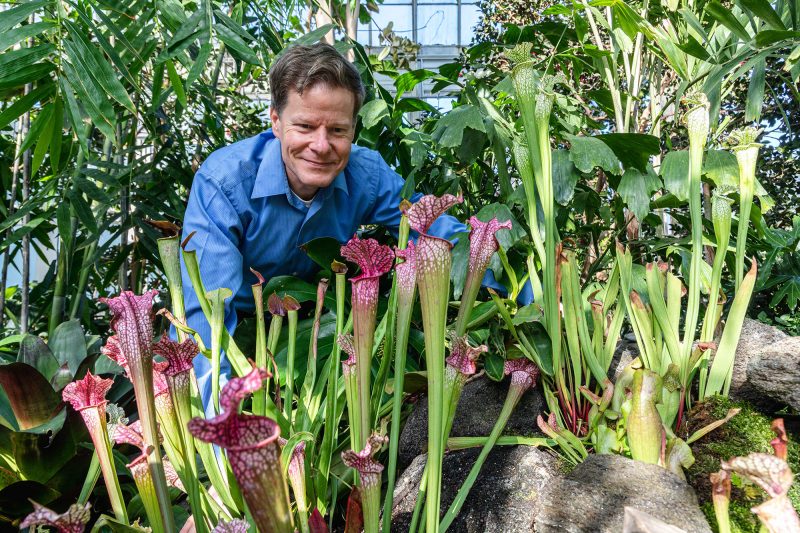 I grew up north of Wilmington, Delaware, and I loved to explore, to discover, and to be out in nature. When I was in elementary school, my neighbor turned me onto birding. I would go on bird walks with him and our club nearby, the Delmarva Ornithological Society. On one of the trips, there were some people pointing down at some spring wildflowers, the ephemerals in the deciduous forest. I looked and thought, Hey, that's interesting. Gradually I got so interested in plants that I wanted to take every moment I could to go out and explore.

By the time I was in high school, I was pretty serious about plants, and I fell under the influence of a couple of college professors, members of the Society of the Natural History of Delaware. After a couple of years of going on field trips as a society, they invited me to lead a trip, during which somebody pointed down at the leaves of a herbaceous plant and asked, "What is it?" One person said, "Oh it's this," and another person said, "No it's that." I said, "It's neither of those things." They all turned to look at me, because I was just a kid at the time. "It's Sanicula!" I said—and I was right. One of the professors, Dr. Arthur Tucker, turned to me and said, "It would be a waste of talent if you didn't become a taxonomist." Him saying that helped me recognize that I loved plants in the natural world, and I apparently had an aptitude for it. I had found my path.
When I was a college student I met this wonderful botanist, Robert Godfrey, a retired professor at Florida State University, and when I made my first trip to the southeast as an undergrad, he and his wife took me in for a few days. He took me out to show me some sedges—one of two families I love dearly, the other being Serraceniaceae, the Western Hemisphere pitcher plants. At one of the very first stops that we made, I looked down and I saw this sedge he was showing me and I thought to myself, I think that's undescribed, and I was right! I named that one after him, Carex godfreyi. He later introduced me to his best friend Angus Gholson, who is another phenomenal field botanist in Florida. Angus took me out, and one of the first sedges he showed me was something new as well! Naturally, I named that one Carex gholsonii. By naming them for those two great people, I hoped to honor their friendship. They were best friends for decades, and many specimens exist that carry both of their names. After learning from and getting to know these two great botanists, I chose to make sedges my specialty.
These many years later, I still love wild places, and I still love nature. I like to see how communities are in their natural state. Nowadays, is there anything that is completely natural? Not likely. But if I had half an hour to spend however I wanted, I would pick some wild, beautiful place.