Posted in Horticulture on February 3 2015, by Sonia Uyterhoeven
Sonia Uyterhoeven is NYBG's Gardener for Public Education.
---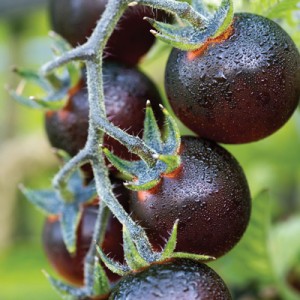 Something old,
something new,
something borrowed,
something blue,
and a silver sixpence in her shoe.
I wasn't looking for blue. I was looking for black…the darkest shade I could find. But I found Indigo™ 'Blue Berries' in the pages of Territorial Seed catalog and fell in love. For clarity, Indigo™ 'Blue Berries' is Solanum lycopersicum—not Vaccinium corymbosum. If you're not yet savvy with the nomenclature, that means we're talking about tomatoes rather than blueberries.
The old English rhyme above was instruction for a bride on what to wear at her wedding. The list was full of superstitions and fertility prayers. That said, I am hoping that Indigo™ 'Blue Berries' will be not only fertile, but positively prolific. Let me start from the beginning.