Posted in Horticulture on February 18 2015, by Sonia Uyterhoeven
Sonia Uyterhoeven is NYBG's Gardener for Public Education.
---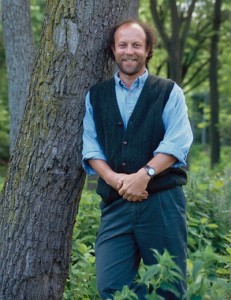 I recently attended a lecture at NYBG given by the naturalistic landscape designer and meadow aficionado, Larry Weaner, who chose an unusual and interesting topic to cover: "Assisted Plant Proliferation in the Designed Landscape." He based his lecture on the premise that if you do nothing, things grow. The challenge for gardeners is to get the right things to grow. In this respect, Weaner, through his work on large-scale naturalistic landscapes, is highly inventive and astutely attuned to the workings of nature.
On some of his project sites, he encourages volunteerism by leaving sections of the meadow fallow for a year to see what makes its way into the wild patch. If the new recruit is desirable, he flags the seedling. Otherwise, it gets mowed down the following year along with the rest of the meadow. Weaner showed an image of a healthy elderberry that had found its way to a fallow section at the edge of a meadow. Sometimes, some of the healthiest and most robust garden specimens appear in this manner, starting surreptitiously from seed and being allowed to flourish.
My note-taking was fast and furious as Weaner went through a number of case studies of plants in their natural habitat. He spoke of the importance of knowing where and how plants proliferate in nature. With this knowledge in hand, gardeners will be able to replicate the desired results.