Posted in Interesting Plant Stories on July 30, 2014 by Gregory Plunkett
Gregory M. Plunkett, Ph.D., is Director and Curator of the Cullman Program for Molecular Systematics at The New York Botanical Garden. One of his major research interests is the carrot family, the Umbelliferae.
---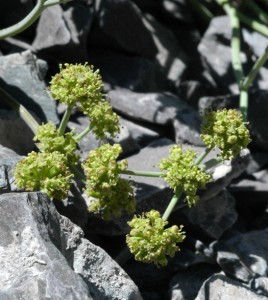 Carrots and their wild relatives, Queen Anne's Lace, are a familiar part of our life, whether at the green-grocer or along summer-time roadsides. But the carrot family (Umbelliferae) is a huge group of nearly 4,000 species, including many familiar sources of food, spices, and medicines, such as parsnips, celery, parsley, fennel, dill, caraway, cilantro, coriander, and anise. Most are found in northern temperate areas of Eurasia and North America, but there is a smaller subgroup of the carrot family centered in the Andean region of South America, extending from the alpine páramos of Colombia and Venezuela to the cold, windswept grasslands of Tierra del Fuego in southern Chile and Argentina.