Posted in Interesting Plant Stories on August 13, 2014 by Scott Mori
Scott A. Mori, Ph.D., is the Nathaniel Lord Britton Curator of Botany at The New York Botanical Garden. Francisca Coelho is the Vivian and Edward Merrin Vice President for Glasshouses and Exhibitions.
---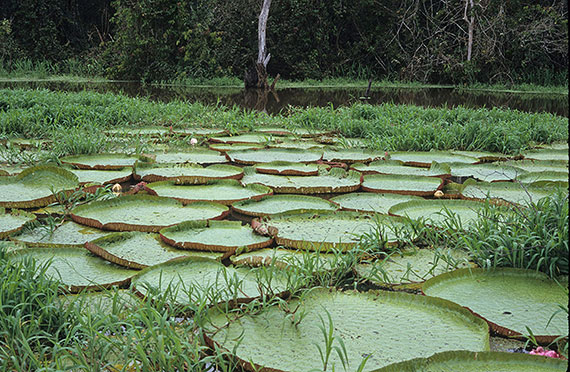 In a post on Plant Talk, Scott described the fascinating life cycle of the Amazon water lily. But how did this iconic Amazonian species receive its scientific name, and how did this popular late-summer attraction come to be cultivated so far from its native habitat at major botanical gardens such as The New York Botanical Garden?
The Amazon water lily was discovered by Eduard Friedrich Poeppig in Peru and, because he thought it was related to an eastern Asian water lily belonging to the genus Euryale, he named it Euryale amazonica in 1836. The species was rediscovered by the German botanist Robert Hermann Schomburgk on a botanical expedition supported by Great Britain to what was then known as British Guiana. Schomburgk shipped his detailed notes, drawings, and collections to the Royal Botanic Gardens, Kew, where John Lindley described the species as Victoria regia in 1837 in honor of Queen Victoria.