From the Field: A Botany Lesson in Vanuatu
Posted in From the Field on December 11, 2014 by Stevenson Swanson
Stevenson Swanson is the Science Media Manager at The New York Botanical Garden.
---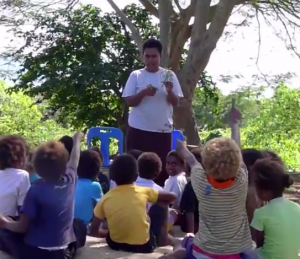 Of all the far-flung places that scientists from The New York Botanical Garden explore, one of the farthest in terms of distance and culture is Vanuatu, an island nation in the South Pacific with a population of about 225,000 people spread over 65 islands and speaking more than 113 indigenous languages.
With its remote location, Vanuatu is home to many plant species that are found only there, making it a treasure trove of biodiversity and an important source of materials for biologists to study. The residents rely on native plants for food, fuel, medicine, and more, but unlike some better-known Pacific islands, Vanuatu's plant life and the traditional knowledge about how to use those plants have not been adequately studied.

For this reason, two Botanical Garden scientists are filling in the blanks about Vanuatu's flora: Michael J. Balick, Ph.D., who is Vice President for Botanical Science and Director and Philecology Curator of the Botanical Garden's Institute of Economic Botany, and Gregory M. Plunkett, Ph.D., who is Director and Curator of the Cullman Program for Molecular Systematics. They are working to document the flora and the local plant names and uses, in partnership with local organizations including the Vanuatu Department of Forestry, the Vanuatu Cultural Center, the Tafea Kaljarol Senta, and the Vanuatu Department of Environment and Conservation, as well as collaborators from the University of Hawaii and the University of the South Pacific. In an ongoing series of field trips, the botanical teams have been collecting and cataloguing the plant life of this fascinating, tropical environment.
In this video, Drs. Balick and Plunkett describe their most recent visit to Vanuatu, which included a chance encounter with an outdoor class about plant life being taught by a first-grade teacher on the island of Tanna, in the south of the archipelago. If her pupils' evident interest and enthusiastic answers are any indication, the next generation of Ni-Vanuatu (the local word for people from that nation) will be fully engaged in protecting their natural heritage and, through this work, will have an important set of tools with which to accomplish this goal.