That Glorious Forest: An Amazonian Explorer Returns to the Garden
Posted in Books: Past and Present on January 9, 2015 by Stevenson Swanson
Stevenson Swanson is the Science Media Manager at The New York Botanical Garden.
---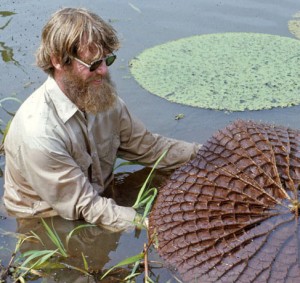 The New York Botanical Garden recently welcomed our distinguished former head of scientific research, Sir Ghillean Prance, one of the most important explorers of the Amazonian rain forest in modern times, who was back for an all-too-brief visit.
Sir Ghillean, who spent 25 years at the Botanical Garden before leaving in 1988 to become the Director of the Royal Botanic Gardens, Kew, was here to celebrate the publication of his new book, That Glorious Forest: Exploring the Plants and Their Indigenous Uses in Amazonia, published by The New York Botanical Garden Press.
In a lifetime devoted to the study and conservation of tropical plants, Sir Ghillean has participated in 39 expeditions to the Amazon, beginning with a 1963 trip to Suriname as a young Garden researcher, which he describes in That Glorious Forest.

After a lecture at the Garden's Ross Hall and a book signing, Sir Ghillean paid a visit to one of his favorite spots at the Garden, the Lowland Tropical Rain Forest Gallery in the Enid A. Haupt Conservatory, and talked about his profound love for the rain forest, recorded here in this interview.
The rain forest, he says, is "like a cathedral," with towering trees of many species all around. It's the amazing diversity of species that makes the rain forest so special, he says.
He also describes how he discovered one of the secrets of the Amazon—the complex series of steps by which the largest water lily in the world, Victoria amazonica, is pollinated.
To read more about Sir Ghillean's life and That Glorious Forest, click here.
That Glorious Forest is available through NYBG Press, Shop in the Garden, online retailers, and bookstores.