A Kudzu Impersonator Lining New York-area Roads
Posted in Interesting Plant Stories on May 1, 2015 by Scott Mori
Scott A. Mori, Ph.D, is a Curator Emeritus associated with the Institute of Systematic Botany at The New York Botanical Garden. His research interests are the ecology, classification, and conservation of tropical rain forest trees.
---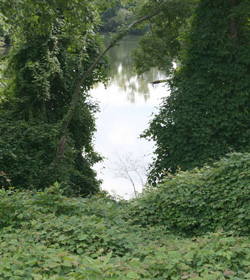 If you have noticed a plant forming a green veil over utility poles or vegetation along roads and parkways in the New York metropolitan area, you probably thought that it was the notorious kudzu vine, a member of the pea family that has been well publicized as a fast-growing invasive plant.
Although kudzu has been reported in New York, it is not the invasive plant found along the Saw Mill River Parkway and other roadways. This plant is a member of the grape family (Vitaceae) and is called the porcelain berry (Ampelopsis brevipedunculata) because of its beautifully colored fruits. These two invasive plants can be distinguished from one another by the porcelain berry's simple, lobed leaves; presence of delicate tendrils; small greenish flowers; and berry fruits. By contrast, kudzu has compound leaves (a leaf divided into separate leaflets); robust tendrils; larger, pea-like flowers; and legume fruits resembling peapods.
The porcelain berry, introduced from Asia as an ornamental plant, escaped from cultivation and has become one of the worst invasive plants in our area. The veil of green that it produces deprives all other plants of sunlight, water, and nutrients.
In early spring the porcelain berry appears as a massive tangle of stems, sprawling over low vegetation along the roadside and up into trees. The plant's tendrils facilitate its climb into tree tops. The flowers produce abundant nectar that attracts swarms of small bees, wasps, and other insects, thereby facilitating the production of fruits.
The plant's fruits are small, spherical berries with a pulp surrounding the seeds. They are multicolored, ranging from white to lavender to blue, with dark spots adorning their outer surfaces. The fruits are consumed by animals, especially birds, which disperse their seeds into new areas. Currently, the leaves have not yet flushed out, so it is possible to see that few, if any, other plants are able to compete with the porcelain berry.
This slideshow requires JavaScript.
The accompanying images show the stages that the porcelain berry goes through during the year. The first image shows how the porcelain berry looks now. To limit this invasive from invading new habitats, do not cultivate it and pull out any young plants that you encounter! Once the porcelain berry becomes established, it is extremely difficult to eradicate.
For information about another invasive plant that is currently flushing new leaves, click on Japanese barberry.