Forest Primeval: Trekking Through Myanmar's Northern Forest Complex
Posted in From the Field, Travelogue on April 11, 2016 by Stevenson Swanson
Stevenson Swanson is the Science Media Manager at The New York Botanical Garden.
---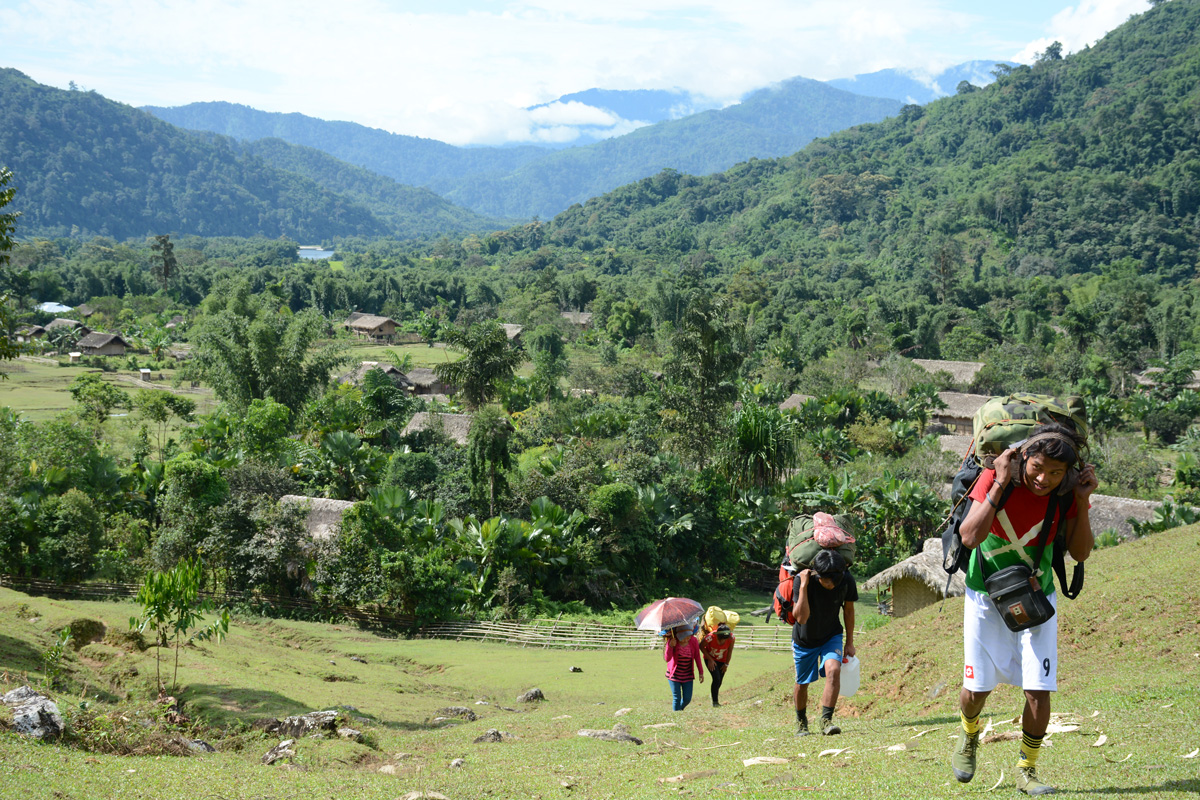 Last fall, when the leaves were turning golden yellow and bright red in The New York Botanical Garden's old-growth forest, two Botanical Garden scientists were on the other side of the world, trekking through a very different old-growth forest in northern Myanmar.
The scientists—Kate Armstrong, Ph.D., Myanmar Program Coordinator in the Institute of Systematic Botany, and Damon P. Little, Ph.D., Associate Curator of Bioinformatics in the Lewis B. and Dorothy Cullman Program for Molecular Systematics—are part of a major Garden research program to discover and document Myanmar's botanical diversity, build the country's capacity to carry out plant research, and promote the sustainable use of its forests.
Leaving from the village of Gatthu, Drs. Armstrong and Little, their colleagues from the Myanmar Forest Department, and a team of porters spent a month in Hkakaborazi National Park, which takes its name from one of the park's mountains, the highest in Myanmar. The researchers hiked 125 miles in a giant loop that took them northeast to the Chinese border and then west before turning south for the return to Gatthu.
They soon fell into a pattern of walking and rest days, collecting plant specimens as they hiked through the dense forest on one day and then spending the following day pressing and drying the plants to preserve them. Eventually, their specimens will join the 7.8 million preserved plants in the Garden's William and Lynda Steere Herbarium. Duplicate specimens will go to institutions in Myanmar and elsewhere.
Drs. Armstrong and Little summed up their field trip to northern Myanmar with some statistics that were, by turns, daunting and diverting.
But this selection of photos offers vivid evidence of what life is like on a research expedition to one of the remotest parts of the world.
This slideshow requires JavaScript.
This research was made possible by a grant from the National Science Foundation (award 1457702) "Floristic inventory of a neglected biodiversity hotspot: Myanmar's Northern Forest Complex." Dr. Armstrong is the Principal Investigator on this grant.
The Garden's Myanmar Program is also supported by The Leona M. and Harry B. Helmsley Charitable Trust.