Top 10: The Best Popular-Science Books of 2016
Posted in Books: Past and Present on December 22, 2016 by Esther Jackson
Esther Jackson is the Public Services Librarian at the New York Botanical Garden's LuEsther T. Mertz Library, where she manages Reference and Circulation services and oversees the Plant Information Office.
---
Many exciting science books were published in 2016, including an enormous number of more specialized botanical texts. But of all the excellent titles intended for a general audience, a few stood out in particular for me. Here are my favorite popular-science books of the year.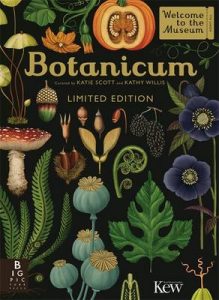 Art & Art History
Botanicum (Welcome to the Museum) catches the eye immediately, its cover adorned with botanical illustrations. Illustrator Katie Scott has breathed contemporary life into her botanical illustrations with an art nouveau-like aesthetic that manages to recall historic botanical illustration styles. Author Kathy Willis has divided the text into "galleries," titled The first plants; Trees; Palms and cycads; Herbaceous plants; Grasses, cattails, sedges, and rushes; Orchids and bromeliads; and Adapting to environments. This is a beautiful book for casual plant lovers as well as those who are already passionate about botany and botanical art.

Botanical Art from the Golden Age of Scientific Discovery is another beautiful book. Author Anna Laurent has curated an exquisite collection of historic botanical art. "More than an archive of illustrations and inquiry, this book documents an extraordinary convergence of disciplines that flourished in the late nineteenth and early twentieth centuries," she writes. "Europe was enjoying a golden age of scientific discovery; naturalists were exploring the globe and there was a clamoring for knowledge of the natural world." The text is organized by plant family, which is always a useful element in a botanical book. (Look for the two images provided by the LuEsther T. Mertz Library!)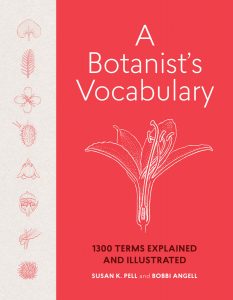 Reference
In the much-anticipated A Botanist's Vocabulary, author Susan Pell and illustrator Bobbi Angell explain and illustrate 1,300 plant terms. Angell's illustrations are lovely in their botanical detail and also in their simplicity. Angell, writing about this project in the June 2016 issue of The Botanical Artist, said of the book, "My focus was to make clear, crisp drawings for easy understanding by gardeners and botanical artists," a focus that carries through beautifully in the work. While a second edition would benefit from a more robust thesaurus, for lovers of plants and for lovers of language, A Botanist's Vocabulary is an essential addition to the home and botanical library alike.
Taxonomy
I would be remiss if I did not comment on the many wonderful titles that the NYBG Press published in 2016. There are several important titles for students of botany and botanists in the Northeast, the highlight of which is the much-anticipated first selection of family treatments for the New Manual of Vascular Plants of Northeastern United States and Adjacent Canada. The New Manual is a project by The New York Botanical Garden to fully revise and update the classic Manual by Gleason and Cronquist (1991, NYBG Press). Gleason and Cronquist's Manual is the latest in a long lineage of manuals about the plants of the Northeast by Botanical Garden authors. The first one, published in 1901, was by the Garden's founding Director-in-Chief Nathaniel Lord Britton. Robert F. C. Naczi, Ph.D., the Arthur J. Cronquist Curator of North American Botany at the Garden, leads this project, working with staff author J. Richard Abbott, staff author Pedro Jimenez-Mejias, and editorial assistant Alisen Downey, and coordinating submissions from additional collaborators. NYBG Press plans to publish online treatments annually until the entire New Manual content is ready, at which time the Press will publish a one-volume book handy for use both in the field and indoors.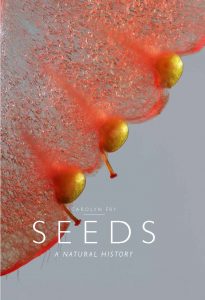 Conservation & Ecology
Seeds: A Natural History by Carolyn Fry is yet another beautiful book. Seeds are an enormous topic to address, but this book is organized well and touches on many subjects. Chapter titles include The importance of seeds to humanity, How plants evolved on planet earth, How seed plants reproduce, Dispersal takes seeds to new pastures, Germination brings plants back to life, and Using seeds to ensure humanity's survival. This book has enough information to keep educated adults engaged and would also be appropriate for curious young biologists with dictionaries.
Garden Revolution: How our landscapes can be a source of environmental change was one of my favorite reads of 2016. "Where are we, ecologically speaking, in both space and time?" wonder authors Larry Weaner and Thomas Christopher. This question is at the heart of the practices the authors espouse. Ecological gardening "fulfills many of the goals promoted by the environmental activists," they write. "It turns the landscape from a consumer of resources and a polluter into a source of environmental renewal." At every point, the reader is asked to think carefully about the land or garden in a holistic way. The authors provide an immense amount of practical advice and instruction. Garden Revolution provides a toolkit to work with land on large and small scales to create ecologically sensitive landscapes. For anyone who is a steward of land or interested in the topic, this is a book to find and read sooner rather than later.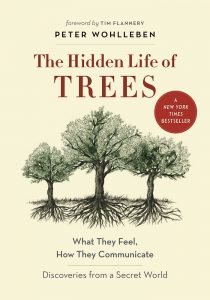 Nature & Natural History
The Hidden Life of Trees, a New York Times best seller in 2016, is a pocket-sized manifesto about the ways in which trees communicate, both proven and theoretical. While students of botany may already be familiar with many of the topics addressed by author Peter Wohlleben, this book is best embraced in the spirt of Aldo Leopold's Sand County Almanac. Scientific reasoning is important, but the emotional and transient scene the author sets is paramount. Wohlleben writes about the organisms in the forest where he works, anthropomorphizing liberally while including citations to scientific studies from which he draws his more technical information. Science-lite in some ways, The Hidden Life of Trees is appropriate for those who do not already have much of a botanical background.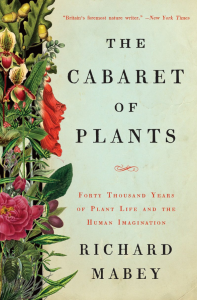 There is no denying the appeal of The Cabaret of Plants: Forty Thousand Years of Plant Life and the Human Imagination. The title grabs the attention of scientists and botanical novices alike, as evidenced by the brisk circulation of this title in the Mertz Library. Author Richard Mabey's skill as a writer carries the reader through the 40,000 years that Cabaret spans. I am critical of its paucity of cited scholarly references but, ultimately, Cabaret is very successful at what it attempts to be: "A story about plants as authors of their own lives and an argument that ignoring their vitality impoverishes our imaginations and our well-being." Mabey's selection of topics and themes has resulted in a very engaging and eclectic assortment of essays.
Memoir and Biography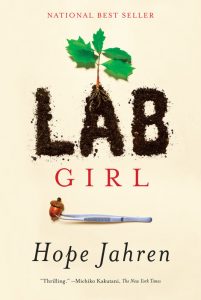 Lab Girl, the memoir of geobiologist Hope Jahren, was one of the better-loved memoirs of 2016. In April, Barbara Thiers, Ph. D., the Garden's Vice President for Science Administration and Patricia K. Holmgren Director of the Herbarium, wrote a stirring review of Jahren's debut memoir for Science Talk. "The book chronicles Hope's journey from undergraduate to graduate student, to struggling young professional researcher, and ultimately to successful and acclaimed leader in her field," Dr. Thiers wrote. "Much as fellow scientists will enjoy this memoir, Hope has her sights on a broader audience. I hope she finds it for her sake and for ours." As we close 2016, Thiers's hope has been realized; in addition to being a best seller, Lab Girl has been named a notable book by The New York Times, Amazon, The Washington Post, and TIME.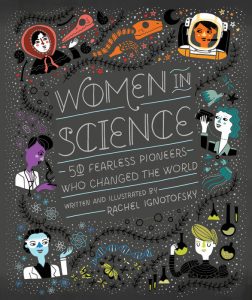 Finally, for young readers, Women in Science: 50 Fearless Pioneers Who Changed the World is an encyclopedic graphic novel written and illustrated by Rachel Ignotofsky. Women working in the fields of science, technology, engineering, and mathematics (STEM) are profiled, dating from the 4th century CE to the present day, including Mary Agnes Chase and Maria Sibylla Merian.
I look forward to reading and reviewing many more books in this category in 2017, including the forthcoming title The Nature Fix: Why nature makes us happier, healthier, and more creative by Florence Williams. Keep an eye out for that review and more in the new year.