After 248 Years, Still Fresh as a Daisy
Posted in Interesting Plant Stories on February 3, 2017 by Stevenson Swanson
Stevenson Swanson is the Science Media Manager for The New York Botanical Garden.
---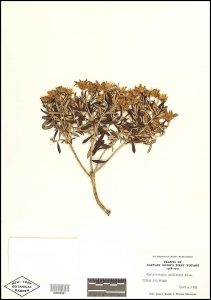 Press. Dry. Mount.
That's the basic process for turning a plant into a research specimen that will last indefinitely, and it's stayed the same for hundreds of years for a good reason: It works.
As proof, here's a member of the daisy family that botanists Joseph Banks and Daniel Solander clipped in January 1769 in Tierra del Fuego, at the southern tip of South America. They were part of the scientific team aboard the HMS Endeavour on Captain James Cook's first voyage around the world. This 248-year-old specimen, still holding onto its leaves and retaining most of its color, is now part of the collection of 7.8 million preserved plants in NYBG's William and Lynda Steere Herbarium, the second largest in the world.

Essential for a wide variety of plant research, ranging from climate change and conservation to evolution and biodiversity, these specimens all follow the same route from the wild to the climate-controlled confines of the Steere Herbarium. The scientists who collect them in the field flatten them in a wooden plant press and then dry them over a heat source. Back at the Herbarium, specially trained staff members mount them on archival paper, using a water-soluble glue and, if necessary, attaching larger pieces by sewing them to the paper. The specimens are arranged on the paper to make sure that all of the parts of the plant necessary to identify or study it are showing—such as the tops and bottoms of leaves—and then the sheet is labeled with extensive information about where and when the plant was collected.
For more about Captain Cook's voyage and his botanists, read Erin Blakemore's recent post about the Garden's Captain Cook specimen on Mental Floss.
And stay tuned to Science Talk for more information about NYBG's first-ever exhibition about the Herbarium, What in the World is a Herbarium?, opening March 4 in Ross Gallery, with a preview and symposium, titled Entwined: Plants, Exploration, and Our Future, on March 3.
What in the World is a Herbarium? and Entwined are made possible in part by the Institute of Museum and Library Services [MA-10-15-0133-15].